In our effort to bring good content to as many people as possible the text in this blog post has been machine translated so please excuse any mistakes. Thank you!
Benim adım Nicole Awad ve 21 yaşındayım. Brezilya, São Paulo'da doğdum ve Amerika Birleşik Devletleri'ne taşınalı bir buçuk yıl oldu. Bu, ülkemin dışında ilk kez yaşamıyorum. Uluslararası bir öğrenci olarak, başlangıçta biraz sancılı bir adaptasyon sürecinden geçtim. Öte yandan, farklı bir kültürde yaşamak, zihnimi rahatlık alanımın dışında öğrenmeye açmıştı ve bu fırsatın beni kişisel ve profesyonel olarak nasıl dönüştüreceği hakkında hiçbir fikrim yoktu.
Uluslararası bir öğrenci olduğum halde tutkularımdan biri insanlarla çalışmak ve başkalarına yardım edebilmek. Psikolojiyi ana dalım olarak seçmemin ana nedeni buydu. Dahası, bu benim üniversitedeki son dönemim, bu yüzden şu anda 2021 sonbaharında University of South Florida'ya transfer olmaya hazırlanıyorum.Hillsborough Community College (HCC) topluluğuna gelmeden önce, bir buçuk yıllık üniversiteyi tamamladım Brezilya'da. Geçmiş yıllarda psikoloji okuyarak insan beyninin güzelliği ve davranış kalıplarımız beni daha çok etkiledi. Empati, ilişkiler, travmalar, sinir bilimleri ve dinleme sanatı hakkında çok şey öğrendim, ancak daha da fazlasını öğrenmeye açım ve gelecekteki bir psikolog olarak yolculuğuma devam etmek için heyecanlıyım. Ayrıca, gelecekteki kariyerim boyunca insanlara yardım etmeyi hedefliyorum ve birisinin birçok kişisel sorunun cevabını bulmasına, nihayetinde daha hafif bir hayat yaşamanın bir yolunu bulmasına yardım ettiğimi hissediyorum.
Zorlanmayı ve konfor bölgemin dışında yaşamayı seviyorum. Ancak aileme duygusal olarak da çok bağlıyım ve bazen onlardan uzakta yaşamak oldukça zor olabiliyor. Ama içimde her zaman bana büyük bir dünyada yaşayan küçük bir kızmışım gibi hissettiren bir his vardı. Bu çok klişe geliyor; bu duygu farklı kültürlerde yaşamak, dünyanın her yerinden insanları tanımak ve farklı ortam ve kültürleri deneyimlemek gibi birçok yönden ruhumu besleyen şeyler. Birincisi, ev dışındaki hayat her zaman belirsiz olduğundan, tüm anları yoğun bir şekilde yaşamak istemenize neden olur. İkincisi, genellikle aileniz olan çevrenizdeki insanlara daha da minnettar hissedersiniz. Son olarak, sıkı çalışmanızla pek çok şeyi fethettiğiniz için kendinizle gurur duyarsınız. Daha sonra "kendim yaptım" duygusu hediye olarak gelir.
Yurtdışında okuduğum ilk deneyimim, Kanada'da bir İsrailli aileyle 6 ay yaşadığım 2015 yılında oldu. O zamanlar gençtim ve olgunlaşmamıştım; Henüz 15 yaşındaydım ve Kanada'da bu seferin bakış açımı, alışkanlıklarımı, davranışlarımı nasıl değiştireceği ve beni evime, aileme ve arkadaşlarıma eskisinden daha fazla değer vereceği konusunda hiçbir fikrim yoktu. Yeni bir ortama uyum sağlamak elbette kolay değildi, ama o zaman ihtiyacım olan tüm desteği ve özeni bana verdiler. Benim için gerçek bir ortak olan ağabeyim, şefkatli bir ev sahibi anne ve maceracı bir ev sahibi babam vardı. Bana ailelerinin hikayesini ve kibbutz'da yaşamanın nasıl bir şey olduğunu anlattılar. Ayrıca sırdaş olan bir oda arkadaşım vardı, adı Mariana'ydı ve Meksikalıydı. Büyük bir bağlantımız vardı çünkü her birinin içinden geçtiği süreci ve beraberinde gelen birçok duyguyu tam olarak biliyorduk. Yurtdışında okuduktan sonra asla eskisi gibi olmadım ve hayat bana duygularımı nasıl daha iyi yönetebileceğimi ve kendi başıma zorluklarla nasıl yüzleşeceğimi öğretti. Daha olgun, daha bağımsız, kendime güveniyordum ve hayallerimi fethetmeye ve hırslarımı takip etmeye hazırdım.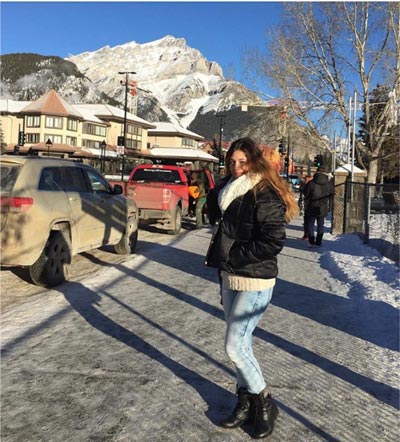 2015'te Kanada'daki değişimim sırasında çekilmiş bir fotoğrafım.
İşte şimdi buradayım, kendimi başka bir deneyimle besliyorum, ama bu sefer ABD'de daha uzun kalıyorum. Yurtdışında yaşayabilmek en iyi deneyim oldu. Bu beni daha güçlü kıldı ve Amerika'da bu kadar çok şey öğrendiğim için minnettarım, bir yandan da gelecekteki hastalarıma yapabileceğim en iyi profesyonel olarak büyürken. Ayrıca bu deneyimin, insanlarla çalışırken daha büyük bir insan yaklaşımı geliştirmeme yardımcı olduğuna inanıyorum. Şu andaHCC'de uluslararası bir elçi olarak çalışıyorum ve bu fırsat, gelecekteki bir psikolog olarak becerilerimi geliştirmeme ve diğer uluslararası öğrencilere Amerika Birleşik Devletleri'ne geçişleri sırasında yardımcı olmama yardımcı oluyor. Şimdi Brezilya'da olsaydım, bir büyükelçi olarak çalışma, onur programına katılma, kulüplere katılma - hatta deneyimlerimi burada ABD'deki Eğitim blogunda paylaşma şansım asla olmayacaktı - şimdi Brezilya'da olsaydım. Tüm deneyimlerim daha bağımsız, kendinden emin, esnek, yaratıcı ve minnettar olan yeni bir Nicole'u şekillendiriyor. Minnettarlık şu anda beni etkileyen duygudur ve bu fırsatla her gün yeni bir şeyler öğrenmekten mutluluk duyuyorum.