In our effort to bring good content to as many people as possible the text in this blog post has been machine translated so please excuse any mistakes. Thank you!
Jill Vanderkar tarafından
Rafael Sampaio, Brezilya'daki Universidade Salvador'da işletme yönetimi alanında lisans eğitimini sürdürürken, PwC Brezilya'da risk güvence ortağı olarak iş deneyimi biriktirmeye başladı, ardından Deloitte Brezilya için çalışmaya devam etti. Deloitte Brezilya ile, maliyet düşürme projeleri üzerinde çalışırken istişarelerde bulundu ve lisans derecesini tamamlamak için veri analizi becerileri ekledi.
Ancak üniversiteden sonra Rafael, kariyeri için ne yapmak istediğinden emin değildi. Aynı projeleri ve görevleri yapmaktan bıkmıştı. Yeni bir şeye hazırdı.
Rafael, "Tek bildiğim, iş yapmak istediğimdi" diyor. "Danışmanlık işini sevdim ama bildiğim tek iş tecrübesiydi. Kaybolduğum ve değişime hazır olduğum bir noktadaydım. Yeni ve farklı bir şey denemek istedim. Daha fazlasını öğrenmek istedim ve en iyi üniversitelerin neler sunabileceğini görmeye başladım. "
Araştırması sırasında Rafael, Silikon Vadisi ve bu alanın açtığı tüm olasılıklarla ilgilenmeye başladı.
Berkeley Global'deki ilk sömestrinizden biraz bahseder misiniz?
Proje Yönetimi Tam Zamanlı Sertifika Programı ile karşılaşmıştım . Yurtdışında eğitim programında aradığım şeye tam olarak uyuyor gibiydi.
Ayrıca Berkeley Global ile bir program yapan ve bunu şiddetle tavsiye eden bir arkadaşım vardı. Programa kabul edilmekten heyecan duydum. Daha sonra 2017 baharında Berkeley'e geldim. Dönem bittikten sonra Connection Silikon Vadisi'nde staj yapmaya devam ettim. Beş ay proje yöneticisi olarak Silikon Vadisi'nde deneyim kazandım ve ekosistemini deneyimledim.
Programı sevdim ve çok şey öğrendim. Ancak eğitimime daha da devam etmek istedim. Daha sonra başka bir Berkeley Global programına başvurmak istediğime karar verdim.
İkinci programınız nasıldı?
Girişimcilik ve yeni teknolojiler hakkında daha fazla bilgi edinmek için Berkeley Haas Küresel Erişim Programında Bahar 2019 kohortuna kabul edildim. Profesör Andrew Isaacs ile aldığım tüm dersler muhteşemdi.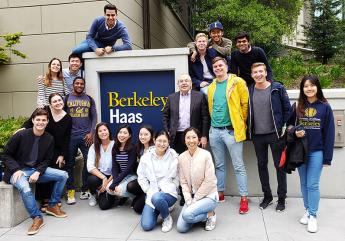 Bu adam bir dahi! Dünyanın her yerinden gelen geniş bir grup insanla iletişim kurdu ve teknoloji trendlerini ve kullanımlarını açıkça anlattı.
Ayrıca, Profesör Barry Swartz'ın 'Karar Verme' kursuna bayıldım.
Her hafta bir TED Konuşmasında olduğumu hissettim. Verdiğim her kararı yeniden düşünmemi sağladı. Genel olarak, Berkeley'deki kurslar bana iş ve girişimcilikte yepyeni bir zihniyete sahip olmayı öğretti.
Her iki programda da akademisyenlerden hoşlanmış gibi görünüyorsunuz, ancak sınıf dışında yapmayı sevdiğiniz şeyler nelerdi?
Hem BHGAP hem de Proje Yönetimi programının sunduğu her şeyden keyif alsam da, yine de California'yı keşfetmek ve sınıf dışında yeni şeyler denemek için zaman ayırdım.
Kaliforniya, Davis'e paraşütle atlamaya gittim ve çok iyi zaman geçirdim!
Hava güzel olduğunda arkadaşlarımla mangallara gitmekten keyif aldım. Bunu neredeyse her hafta yapardım.
Konserlere gitmek harikaydı. Körfez Bölgesi şimdiye kadar yaşadığım en iyi konserlerden bazılarına sahip.
San Francisco'daki Exploratorium'u ziyaret etmek her zaman eğlenceliydi.
Gezerken San Francisco'da bisiklete binmeyi ve kaymayı severdim.
Gelecekteki öğrencilere tüm deneyimlerden olabildiğince zevk almalarını ve zaman kaybetmemelerini tavsiye ederim. Her şey çok hızlı geçiyor. Kendinizi oraya koyarsanız birçok harika insanla tanışacaksınız. Sıkı çalışın, sıkı oynayın ve eğlenin.

Şimdi her iki programı da tamamladığınıza göre, şimdi ne yapıyorsunuz?
Miami, Florida'da bulunan OneBlinc adlı bir şirketin ürün yöneticisiyim. Şirketimiz kredi notu yüksek olmayan kişilere kredi sağlamaktadır. Kendimi şirketin iş ve teknoloji yönleri arasında bir çevirmen olarak görüyorum. Artık herkes uzaktan ve her zamankinden daha çok çalışıyor.
Florida'ya annemi ziyarete giderken bu işi buldum. Oneblinc, Fabio Torelli ve Gilberto Hackl çalışanları benimle iletişime geçti. İkisiyle Silikon Vadisi'nde tanıştım ama şimdi sırasıyla Florida ve Kanada'da yaşıyorlar. Fabio beni aradı ve kahve içmek için buluşmak istedi. Finans alanında çalışması için şirketi için birisini tutması gerektiğini söyledi. Endişeliydim çünkü bu, o zamanlar ille de ilgilenmediğim bir şeydi.
Ama bana inandı ve işi iki aylığına denememi söyledi - sırf bundan hoşlanıp hoşlanmadığımı görmek için.
Bir yıl sonra hala şirketteyim ve onu seviyorum. Doğru zamanda doğru yerdeydim. Berkeley benim için pek çok kapı açtı. İş ve finans dünyası hakkında çok şey öğrendim. Ayrıca, Körfez Bölgesi içinde ağ kurma fırsatım olmasaydı, bugün sahip olduğum işe sahip olamazdım.
Sık sık bir alıntı eğitmeni Gregory Le Blanc şöyle dedi: "En iyi yaptığınız şeyi yapın. Her şeyde uzman olamazsınız. " Bu kesinlikle şu anki rolümle ilgili.