In our effort to bring good content to as many people as possible the text in this blog post has been machine translated so please excuse any mistakes. Thank you!
Por Jill Vanderkar
Enquanto fazia seus estudos de graduação em administração de empresas na Universidade Salvador no Brasil, Rafael Sampaio começou a acumular experiência de trabalho como associado de garantia de risco na PwC Brasil e depois trabalhou para a Deloitte Brasil . Na Deloitte Brasil, ele realizou consultas enquanto trabalhava em projetos de redução de custos, agregando habilidades de análise de dados para complementar seu curso de graduação.
Mas, depois da faculdade, Rafael não tinha certeza do que queria fazer pela carreira. Ele estava cansado de fazer os mesmos projetos e tarefas. Ele estava pronto para algo novo.
"Eu só sabia que queria entrar no mercado", diz Rafael. "Adorei o trabalho de consultoria, mas foi a única experiência de trabalho que conheci. Eu estava em um ponto em que estava perdido e pronto para a mudança. Queria experimentar algo novo e diferente. Eu queria aprender mais e comecei a olhar para ver o que as melhores universidades tinham a oferecer ".
Durante sua pesquisa, Rafael ficou intrigado com o Vale do Silício e todas as possibilidades que essa área abre.
Você pode nos contar um pouco sobre seu primeiro semestre na Berkeley Global?
Eu conheci o Programa de Certificado de Gerenciamento de Projetos em Tempo Integral . Parecia se encaixar exatamente no que eu estava procurando em um programa de estudos no exterior.
Eu também tinha um amigo que fez um programa com a Berkeley Global e o recomendou muito. Fiquei animado por ser aceito no programa. Então, vim para Berkeley na primavera de 2017. Depois que o semestre terminou, continuei com um estágio na Connection Silicon Valley . Por cinco meses como gerente de projeto, ganhei experiência no Vale do Silício e experimentei seu ecossistema.
Adorei o programa e aprendi muito. No entanto, eu queria continuar minha educação ainda mais. Então decidi que queria me inscrever em outro programa da Berkeley Global.
Como foi o seu segundo programa?
Fui aceito na coorte da primavera de 2019 no Programa de Acesso Global da Berkeley Haas para aprender mais sobre empreendedorismo e novas tecnologias. Todos os cursos que tive com o professor Andrew Isaacs foram incríveis.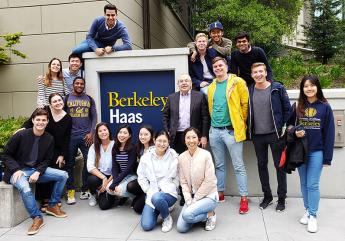 Esse homem é um gênio! Ele foi capaz de se comunicar com um grande grupo de pessoas que vieram de todo o mundo e explicou claramente as tendências da tecnologia e seus usos.
Além disso, adorei o curso 'Tomada de decisões' do professor Barry Swartz .
Eu me sentia como se estivesse em uma palestra TED toda semana. Ele me fez repensar cada decisão que estava tomando. No geral, os cursos em Berkeley me ensinaram a ter uma mentalidade totalmente nova em negócios e empreendedorismo.
Parece que você gostou dos estudos em ambos os programas, mas quais eram suas atividades favoritas fora da sala de aula?
Embora eu tenha gostado de tudo o que o BHGAP e o programa de gerenciamento de projetos têm a oferecer, ainda arranjei tempo para explorar a Califórnia e experimentar coisas novas fora da sala de aula.
Eu fui paraquedismo em Davis, Califórnia, e me diverti muito!
Eu gostava de ir a churrascos com os amigos quando o tempo estava bom. Eu faria isso quase todas as semanas.
Ir aos shows foi incrível. A Bay Area tem alguns dos melhores shows que eu já experimentei.
Visitar o Exploratorium em San Francisco sempre foi divertido.
Eu adorava andar de bicicleta e patinar em São Francisco enquanto fazia turismo.
Recomendo aos futuros alunos que aproveitem ao máximo toda a experiência e não percam tempo. Tudo passa tão rápido. Você vai conhecer muitas pessoas incríveis se você se colocar lá fora. Trabalhe duro, divirta-se e divirta-se.

Agora que você concluiu os dois programas, o que está fazendo agora?
Sou gerente de produto de uma empresa chamada OneBlinc, localizada em Miami, Flórida. Nossa empresa oferece empréstimos para pessoas que não têm uma pontuação de crédito alta. Eu me considero um tradutor entre os lados comercial e tecnológico da empresa. Todos estão trabalhando remotamente agora e com mais afinco do que nunca.
Durante uma viagem à Flórida para visitar minha mãe, consegui este emprego. Funcionários da Oneblinc, Fabio Torelli e Gilberto Hackl, entraram em contato comigo. Conheci os dois no Vale do Silício, mas agora moram na Flórida e no Canadá, respectivamente. O Fábio me ligou e pediu para um café. Ele me disse que precisava contratar alguém para sua empresa para trabalhar com finanças. Eu estava preocupado porque isso era algo em que eu não estava necessariamente interessado na época.
Mas ele acreditou em mim e me disse para tentar o trabalho por dois meses - só para ver se eu gostava.
Um ano depois, ainda estou com a empresa e adoro isso. Eu estava no lugar certo na hora certa. Berkeley abriu muitas portas para mim. Aprendi muito sobre o mundo dos negócios e das finanças. Além disso, sem ter a oportunidade de fazer networking na Bay Area, não teria o emprego que tenho hoje.
Muitas vezes penso em uma citação do instrutor Gregory Le Blanc : "Faça o que você faz melhor. Você não pode ser um especialista em tudo. " Isso definitivamente está relacionado à minha função atual.