In our effort to bring good content to as many people as possible the text in this blog post has been machine translated so please excuse any mistakes. Thank you!
Oleh Jill Vanderkar
Saat menempuh studi sarjana dalam manajemen bisnis di Universidade Salvador di Brazil, Rafael Sampaio mulai mengumpulkan pengalaman kerja sebagai rekan penjamin risiko di PwC Brazil kemudian bekerja untuk Deloitte Brazil . Dengan Deloitte Brazil, dia melakukan konsultasi sambil mengerjakan proyek pengurangan biaya, menambahkan keterampilan analisis data untuk melengkapi gelar sarjananya.
Tapi setelah kuliah, Rafael tidak yakin apa yang ingin dia lakukan untuk karirnya. Dia lelah melakukan proyek dan tugas yang sama. Dia siap untuk sesuatu yang baru.
"Yang saya tahu hanyalah bahwa saya ingin berbisnis," kata Rafael. "Saya menyukai pekerjaan konsultan, tapi itu satu-satunya pengalaman kerja yang saya tahu. Saya berada pada titik di mana saya tersesat dan siap untuk perubahan. Saya ingin mencoba sesuatu yang baru dan berbeda. Saya ingin mempelajari lebih lanjut dan mulai melihat apa yang ditawarkan universitas terbaik. "
Selama penelitiannya, Rafael menjadi tertarik dengan Silicon Valley dan semua kemungkinan yang terbuka di area ini.
Bisakah Anda ceritakan sedikit tentang semester pertama Anda di Berkeley Global?
Saya telah menemukan Program Sertifikat Manajemen Proyek Penuh Waktu . Tampaknya sesuai dengan apa yang saya cari dalam program studi di luar negeri.
Saya juga punya teman yang membuat program dengan Berkeley Global dan sangat merekomendasikannya. Saya sangat senang diterima di program ini. Saya kemudian datang ke Berkeley pada musim semi 2017. Setelah semester berakhir, saya melanjutkan magang di Connection Silicon Valley . Selama lima bulan sebagai manajer proyek, saya memperoleh pengalaman di Silicon Valley dan merasakan ekosistemnya.
Saya menyukai program ini dan belajar banyak. Namun, saya ingin melanjutkan pendidikan saya lebih jauh. Saya kemudian memutuskan ingin melamar program Berkeley Global lainnya.
Seperti apa program kedua Anda?
Saya diterima dalam kelompok Musim Semi 2019 di Program Akses Global Berkeley Haas untuk mempelajari lebih lanjut tentang kewirausahaan dan teknologi baru. Semua kursus yang saya ikuti dengan Profesor Andrew Isaacs luar biasa.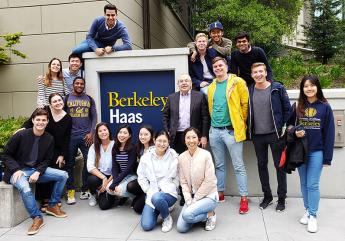 Pria itu jenius! Dia mampu berkomunikasi dengan sekelompok besar orang yang datang dari seluruh dunia dan menjelaskan tren teknologi serta penggunaannya dengan jelas.
Juga, saya menyukai kursus 'Pengambilan Keputusan' Profesor Barry Swartz .
Saya merasa seperti berada di TED Talk setiap minggu. Dia membuat saya memikirkan kembali setiap keputusan yang saya buat. Secara keseluruhan, kursus di Berkeley mengajari saya untuk memiliki pola pikir baru dalam bisnis dan kewirausahaan.
Kedengarannya Anda menikmati kegiatan akademis di kedua program, tetapi hal favorit apa yang Anda lakukan di luar kelas?
Meskipun saya menikmati semua yang ditawarkan oleh program BHGAP dan Manajemen Proyek, saya masih meluangkan waktu untuk menjelajahi California dan mencoba hal-hal baru di luar kelas.
Saya terjun payung di Davis, California, dan bersenang-senang!
Saya menikmati pergi ke BBQ dengan teman-teman ketika cuaca bagus. Saya akan melakukan ini hampir setiap minggu.
Pergi ke konser itu luar biasa. The Bay Area memiliki beberapa konser terbaik yang pernah saya alami.
Mengunjungi Exploratorium di San Francisco selalu menyenangkan.
Saya suka bersepeda dan berseluncur di sekitar San Francisco sambil bertamasya.
Saya merekomendasikan siswa masa depan untuk menikmati seluruh pengalaman sebanyak yang Anda bisa dan jangan buang waktu. Semuanya berjalan begitu cepat. Anda akan bertemu banyak orang luar biasa jika Anda menempatkan diri di luar sana. Bekerja keras, bermain keras, dan bersenang-senang.

Sekarang setelah Anda menyelesaikan kedua program, apa yang Anda lakukan sekarang?
Saya seorang manajer produk untuk sebuah perusahaan bernama OneBlinc yang berlokasi di Miami, Florida. Perusahaan kami menyediakan pinjaman untuk orang yang tidak memiliki nilai kredit tinggi. Saya menganggap diri saya sebagai penerjemah antara sisi bisnis dan teknologi perusahaan. Setiap orang bekerja dari jarak jauh sekarang dan lebih keras dari sebelumnya.
Saat dalam perjalanan ke Florida untuk mengunjungi ibu saya, saya mendapatkan pekerjaan ini. Karyawan Oneblinc, Fabio Torelli dan Gilberto Hackl, menghubungi saya. Saya bertemu mereka berdua di Silicon Valley, tapi sekarang mereka tinggal di Florida dan Kanada. Fabio menelepon saya dan meminta untuk bertemu untuk minum kopi. Dia mengatakan kepada saya bahwa dia perlu mempekerjakan seseorang untuk perusahaannya untuk bekerja di bidang keuangan. Saya khawatir karena ini adalah sesuatu yang belum saya minati saat itu.
Tapi dia percaya pada saya dan mengatakan kepada saya untuk mencoba pekerjaan itu selama dua bulan - hanya untuk melihat apakah saya menikmatinya.
Satu tahun kemudian, saya masih bersama perusahaan dan menyukainya. Saya berada di tempat yang tepat pada waktu yang tepat. Berkeley membuka banyak pintu bagi saya. Saya telah belajar banyak tentang dunia bisnis dan keuangan. Juga, tanpa memiliki kesempatan untuk membangun jaringan dalam Bay Area, saya tidak akan memiliki pekerjaan yang saya miliki hari ini.
Saya sering berpikir tentang kutipan instruktur Gregory Le Blanc berkata: "Lakukan yang terbaik. Anda tidak bisa menjadi ahli dalam segala hal. " Ini pasti terkait dengan peranku saat ini.