In our effort to bring good content to as many people as possible the text in this blog post has been machine translated so please excuse any mistakes. Thank you!
Por Jill Vanderkar
Mientras cursaba sus estudios de pregrado en administración de empresas en la Universidade Salvador en Brasil, Rafael Sampaio comenzó a acumular experiencia laboral como asociado de aseguramiento de riesgos en PwC Brasil y luego pasó a trabajar para Deloitte Brasil . Con Deloitte Brasil, realizó consultas mientras trabajaba en proyectos de reducción de costos, agregando habilidades de análisis de datos para complementar su licenciatura.
Pero después de la universidad, Rafael no estaba seguro de lo que quería hacer en su carrera. Estaba cansado de hacer los mismos proyectos y tareas. Estaba listo para algo nuevo.
"Todo lo que sabía era que quería tener un negocio", dice Rafael. "Me encantaba el trabajo de consultoría, pero era la única experiencia laboral que conocía. Estaba en un punto en el que estaba perdido y listo para el cambio. Quería probar algo nuevo y diferente. Quería aprender más y comencé a buscar para ver lo que las mejores universidades tenían para ofrecer ".
Durante su investigación, Rafael se sintió intrigado por Silicon Valley y todas las posibilidades que abre esta área.
¿Puede contarnos un poco sobre su primer semestre con Berkeley Global?
Me había encontrado con el Programa de Certificación de Gestión de Proyectos a tiempo completo . Parecía encajar exactamente con lo que estaba buscando en un programa de estudios en el extranjero.
También tenía un amigo que hizo un programa con Berkeley Global y lo recomendó mucho. Estaba emocionado de ser aceptado en el programa. Luego vine a Berkeley en la primavera de 2017. Después de que terminó el semestre, continué con una pasantía en Connection Silicon Valley . Durante cinco meses como gerente de proyectos, adquirí experiencia en Silicon Valley y experimenté su ecosistema.
Me encantó el programa y aprendí mucho. Sin embargo, quería continuar mi educación aún más. Entonces decidí que quería postularme a otro programa de Berkeley Global.
¿Cómo fue tu segundo programa?
Me aceptaron en la cohorte de primavera de 2019 en el Programa de acceso global de Berkeley Haas para aprender más sobre el espíritu empresarial y las nuevas tecnologías. Todos los cursos que tuve con el profesor Andrew Isaacs fueron increíbles.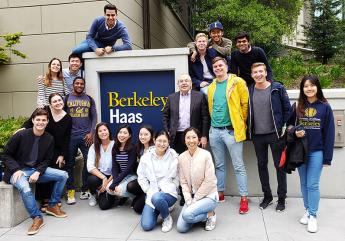 ¡Ese hombre es un genio! Pudo comunicarse con un gran grupo de personas que venían de todo el mundo y explicó claramente las tendencias tecnológicas y sus usos.
Además, me encantó el curso "Toma de decisiones" del profesor Barry Swartz .
Me sentí como si estuviera en una charla TED cada semana. Me hizo repensar cada decisión que estaba tomando. En general, los cursos en Berkeley me enseñaron a tener una mentalidad completamente nueva en los negocios y el espíritu empresarial.
Parece que disfrutó de lo académico en ambos programas, pero ¿cuáles fueron sus cosas favoritas para hacer fuera del aula?
Aunque disfruté de todo lo que tanto BHGAP como el programa de Gestión de Proyectos tenían para ofrecer, todavía hice tiempo para explorar California y probar cosas nuevas fuera del aula.
Fui a hacer paracaidismo en Davis, California, ¡y lo pasé de maravilla!
Disfruté yendo a barbacoas con amigos cuando hacía buen tiempo. Haría esto casi todas las semanas.
Ir a conciertos fue increíble. El Área de la Bahía tiene algunos de los mejores conciertos que he experimentado.
Visitar el Exploratorium en San Francisco siempre fue divertido.
Me encantaba andar en bicicleta y patinar por San Francisco mientras hacía turismo.
Recomiendo a los futuros estudiantes que disfruten al máximo de la experiencia y no pierdan el tiempo. Todo pasa muy rápido. Conocerás a mucha gente increíble si te pones ahí. Trabaja duro, juega duro y diviértete.

Ahora que ha completado ambos programas, ¿qué está haciendo ahora?
Soy gerente de producto de una empresa llamada OneBlinc ubicada en Miami, Florida. Nuestra empresa ofrece préstamos para personas que no tienen un puntaje crediticio alto. Me considero un traductor entre el lado empresarial y el tecnológico de la empresa. Todo el mundo trabaja de forma remota ahora y más duro que nunca.
Mientras estaba de viaje a Florida para visitar a mi mamá, conseguí este trabajo. Los empleados de Oneblinc, Fabio Torelli y Gilberto Hackl, se pusieron en contacto conmigo. Los conocí a ambos en Silicon Valley, pero ahora viven en Florida y Canadá, respectivamente. Fabio me llamó y pidió quedarnos para tomar un café. Me dijo que necesitaba contratar a alguien para que su empresa trabajara en finanzas. Estaba preocupado porque esto era algo en lo que no estaba necesariamente interesado en ese momento.
Pero él creyó en mí y me dijo que le diera una oportunidad al trabajo durante dos meses, solo para ver si lo disfrutaba.
Un año después, sigo en la empresa y me encanta. Estaba en el lugar correcto en el momento correcto. Berkeley me abrió muchas puertas. He aprendido mucho sobre el mundo empresarial y financiero. Además, sin la oportunidad de establecer contactos dentro del Área de la Bahía, no tendría el trabajo que tengo hoy.
A menudo pienso en una cita que el instructor Gregory Le Blanc dijo: "Haz lo que mejor sabes hacer. No puedes ser un experto en todo ". Esto definitivamente se relaciona con mi función actual.