In our effort to bring good content to as many people as possible the text in this blog post has been machine translated so please excuse any mistakes. Thank you!
Katie E. Van Wyk tarafından
Hiç Amerika Birleşik Devletleri'nde bir kolej veya üniversiteyi "denemek" istediniz mi? Öğrenim masrafları genellikle binleri bulan, Amerika Birleşik Devletleri'nde okumak için bir sıçrama yapmak genellikle korkutucu olabilir. Ya birkaç haftalığına kayıt olmanın bir yolu olsaydı? Eh, şimdi var!
Tacoma Community College , öğrencilere bu Nisan ayında "Tacoma Gezisi" adlı üç haftalık bir çevrimiçi kursa katılma şansı sunuyor . Sınıf, bir ABD kolejinde veya üniversitesinde çevrimiçi bir sınıfa kaydolmanın nasıl bir şey olduğunu deneyimlemek isteyen İngilizce öğrenenlere yöneliktir.
Ayrıca, öğrenciler sadece üç hafta içinde İngilizce dil becerilerini geliştirmeyi bekleyebilirler!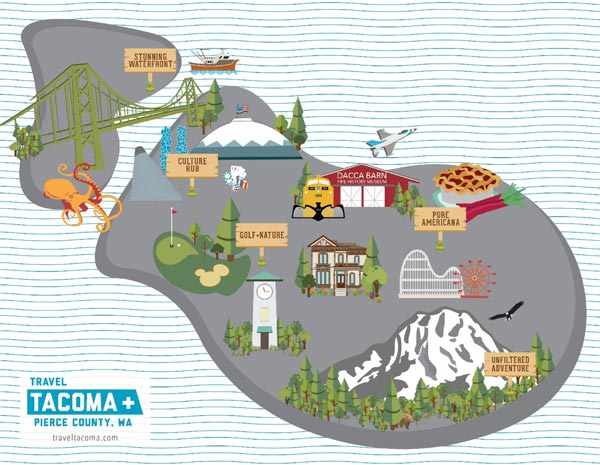 Peki bu kurs ne hakkında? Üniversitemizin bulunduğu şehir hakkında pek çok eğlenceli ve ilginç şey var. Pek çok insan, kuzeyimizdeki teknoloji merkezi Seattle'ı duydu, ancak çok azı güzel Kader Şehri Tacoma'yı duydu! Washington Eyaleti, Tacoma'daki siteler, sesler ve insanlar hakkında bilgi edinmek için Tacoma'ya sanal bir gezi yapacağız.
Ve öğrenciler ne öğrenecek? Kurs, dört İngilizce dil becerisini geliştirmeye odaklanmaktadır:
Okuma: Kelime incelemesi ile haftalık okuma ödevleri

Yazma: Dilbilginizi geliştirin ve paragraf / kompozisyon yapısını anlayın

Konuşma: Video ile birlikte gönderilen kelime ve telaffuz ödevleri

Dinleme: İngilizce dilinde dinlemek ve yanıt vermek için eğitmen ve sınıf arkadaşlarıyla haftada iki kez toplantı
Bu kurs ilk kez 2020 sonbaharında sunuldu ve Bolivyalı öğrenci Elmer deneyimleri hakkında şunları paylaştı: "Daha iyi gramer anlayışı için [İngilizce] kelimeleri analiz etmeyi, yeni yerler bilmenin yanı sıra dilde daha derinlere inmeyi öğrendim , kültürler ve insanlar. "
---
| | |
| --- | --- |
| | Tıpkı ABD'deki herhangi bir üniversite sınıfı gibi, bu sınıfın profesörü son derece yetkin ve eğitimli bir eğitmendir. Profesör Emilie Coates-White, 1993 yılından beri İkinci Dil Olarak İngilizce (ESL) öğretmektedir ve Tacoma Community College'ın Akademik Amaçlı İngilizce programının fakülte direktörüdür. |
Kuzeybatı ABD'nin bir yerlisi olarak, aday öğrencilerle bu yolculuğa Tacoma'ya gitmekten ve onlara evi dediği yeri öğretmekten heyecan duyuyor.
---
Tacoma Community College Kurs Detayları:
Tarihler: 5-23 Nisan 2021

Kurs Süresi: CANLI Toplantılar her Pazartesi ve Perşembe 16:00 PST (0:00 UTC).

Kurs Ücreti: 50 USD

Kurs ücreti şunları içerir:

Tacoma Community College'dan son derece yetenekli Akademik Amaçlı İngilizce öğretim üyeleri

Üç haftalık kurs eğitimi (toplamda ~ 15 saatlik zaman taahhüdü)

Haftada 2-3 saat CANLI ders süresi

Haftada kendi saatinde tamamlanması gereken 2-3 saatlik ders

Okuma, yazma, konuşma ve dinlemede İngilizce beceri gelişimi

Önümüzdeki akademik yılda tam zamanlı eğitim almak için Tacoma Community College'a giriş için ÜCRETSİZ başvuru ücreti (50 $ değerinde)

Program tamamlama sertifikası

Uygunluk: Öğrenciler katılmak için 16 yaşında veya daha büyük olmalıdır

En geç başvuru tarihi: 26 Mart 2021

Burayı Başvurun: https://tccinternational.wufoo.com/forms/a-trip-to-tacoma/

Sorular? Katie E. Van Wyk (Tacoma Community College'da Global Sosyal Yardım, Pazarlama ve Kabul müdür yardımcısı) kvanwyk@tacomacc.edu veya WhatsApp +1 253 209 1123 aracılığıyla iletişime geçin