Danny Leowardy from Indonesia is a Hospitality Business Management major at Washington State University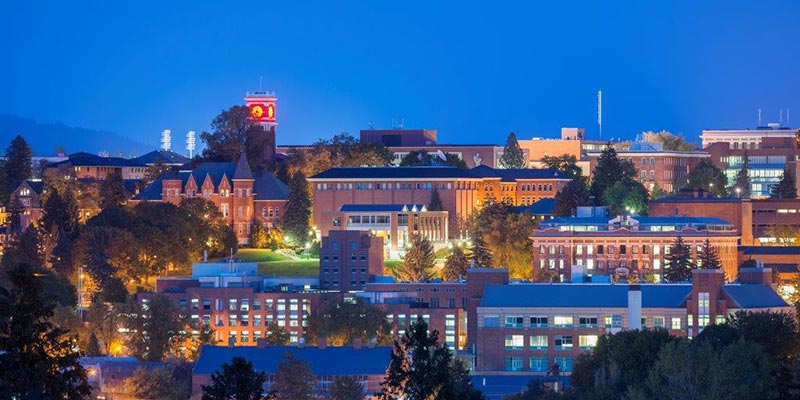 WHY DID YOU DECIDE TO STUDY IN THE USA?
I decided to study in the USA because I want to study a lot more than just academics. I want to know and learn more about the culture and life in the USA, since it is very different to live in a country that is very far from home.
WHY DID YOU CHOOSE WASHINGTON STATE UNIVERSITY?
Because Washington State University (WSU) not only has the courses that I need, but also the facilities that WSU has to offer were attractive to me. In my opinion, Pullman is a great college town for the students because there are not many distractions.
WHAT DO YOU LIKE BEST?
What I like best from Washington State University is from the Hospitality Business Management (HBM) program, which is my major. Also, because the HBM school in Washington State University is one of the best in the U.S.
WHAT DO YOU MISS MOST?
There are so many things that I miss from Indonesia. But obviously, family and friends are what I miss the most. I also miss the authentic Indonesian foods and its spiciness.
WHAT WAS YOUR BIGGEST SURPRISE?
There are a lot of things that I experienced about U.S. life and education, which I cannot explain by mere words. One of the biggest surprises is that in the U.S, people tend to be more individualistic, whereas in Indonesia, people like to do things together.
... YOUR BIGGEST DISAPPOINTMENT?
The first couple months in the U.S. were hard for me, because it was my first time living abroad, far away from home and family. I had a problem managing my time and differences in culture. Because of that, I could not use my time to study well. That is my biggest disappointment.
HOW HAVE YOU HANDLED:
... LANGUAGE DIFFERENCES?
I think that language differences are not that big of a problem, since living abroad itself will help you naturally to improve your foreign language skills by having the opportunity for you to practice it every day.
... FINANCES?
Since the exchange rate between rupiah and U.S. dollar is not stable, I have to learn to manage my expenses by not getting things that I don't need.
... ADJUSTING TO A DIFFERENT EDUCATIONAL SYSTEM?
For me, it is not a big deal because before I came here to the U.S, I went to Monash University for the Foundation program, which has a pretty similar educational system with the U.S.
WHAT ARE YOUR ACTIVITIES?
I am an officer of Indonesian Student Association - Pullman (PERMIAS-Pullman), a member of Delta Sigma Pi - Professional Business Fraternity and a member of Washington State University Baseball Club.
HOW EASY OR DIFFICULT WAS MAKING FRIENDS?
In my opinion, it is different for each person because there are so many factors that make it either easier or harder to make friends in the USA. Personally, it is not hard to make friends if you're easy-going and friendly.
HOW RELEVANT IS YOUR U.S. EDUCATION TO YOUR PERSONAL GOALS AND TO THE NEEDS OF YOUR COUNTRY?
Studying in the U.S at Washington State University will help me to get closer towards my goals, which is to graduate from Washington State University, get a great job and be successful. Living and studying in the U.S has exposed me to different perspectives.
WHAT IS YOUR ADVICE TO OTHER STUDENTS WHO ARE CONSIDERING A U.S. EDUCATION?
First of all, I think that being open-minded is the most important thing. Being homesick and experiencing culture shock is normal, but don't worry too much because you will adapt and get used to it. Do some research about the college/university that you're trying to get in to. Also, never give up and always give your all in everything you do.