A Small Girl Living in a Big World
My name is Nicole Awad, and I am 21 years old. I was born in São Paulo, Brazil, and it has already been one year and a half since I moved to the United States. This is not the first time I have lived outside of my country. As an international student, I went through an adaptation process which was kind of painful at the beginning. On the other hand, living in a different culture made me open my mind to learn outside of my comfort zone, and I had no idea how this opportunity would transform me personally and professionally.
Even as I am an international student, one of my passions is to work with people and to be able to help others. This was the main reason that led me to choose psychology as my major. Moreover, this is my last semester at college, so I am currently getting ready to transfer to University of South Florida in the fall of 2021. Before coming to the Hillsborough Community College (HCC) community, I completed one year and a half of university in Brazil. Those past years studying psychology made me become more fascinated by the beauty of the human brain and our behavioral patterns. I have learned very much about empathy, relationships, traumas, neurosciences, and the art of listening, but I am hungry to learn even more and excited to continue my journey as a future psychologist. Also, I aim to help people through my future career and feel that I helped somebody find the answers to many personal questions, ultimately helping them find a way to live a lighter life.
I love being challenged and living outside of my comfort zone. However, I am also very emotionally attached with my family, and sometimes it can be quite hard to live far from them. But there has always been a feeling inside of me that made me feel like I am a small girl living in a big world. That sounds very cliché; this feeling is like living in different cultures, getting to know people from all over the world and experiencing different environments and cultures are things that nourish my soul in many ways. First, it makes you want to live intensively all the moments since life outside home is always uncertain. Secondly, you feel even more grateful for the people around you, who usually become your family. Finally, you become proud of yourself for conquering so many things with your hard work. Later on, the feeling of "I made it by myself" comes as a gift.
My first experience studying abroad was in 2015, when I lived for 6 months with an Israeli family in Canada. I was young and immature at that time; I was only 15 years old, and I had no idea how this time in Canada would transform my perspectives, my habits, my behaviors and make me value my home, family and friends even more than before. Adapting to a new environment was not easy for sure, but they gave me all the support and care I needed at that time. I had an older host brother who was a real partner to me, a caring host mother, and an adventurous host father. They told me about the story of their family, and what it was like to live on a kibbutz. I also had a roommate who became a confidant, her name was Mariana, and she was from Mexico. We had a huge connection because we knew exactly the process each one was going through and the many emotions that came with it. I was never the same after studying abroad, and life taught me how to better manage my feelings and face challenges being by myself. I was more mature, more independent, secure of myself, and ready to conquer my dreams and follow my ambitions.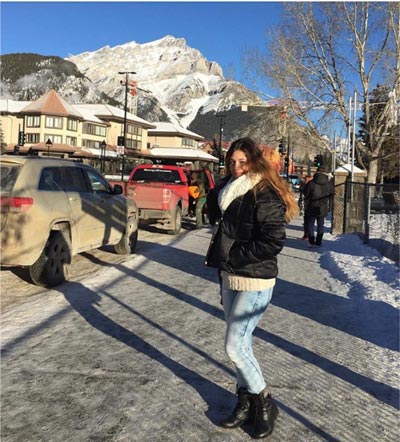 A photo of me during my exchange in Canada, in 2015.
So here I am now, nurturing myself with another experience, but this time staying in the U.S. longer. Being able to live abroad has been the best experience. It has made me stronger, and I am grateful to be in the U.S. learning so many things, while growing to be the best professional I can to my future patients. I also believe that this experience is helping me to develop a bigger human approach when working with people. I am currently working as an international ambassador at HCC, and this opportunity is helping me to develop my skills as a future psychologist and assist other international students during their transition to the United States. I would never have the chance to work as an ambassador, to be in the honors program, to join clubs — or even have the chance to share my experience here in the Study in the USA blog — if I were in Brazil now. All my experiences are shaping a new Nicole that is more independent, confident, resilient, creative, and thankful. Gratitude is the emotion that domains me now, and I am happy to be learning something new every day with this opportunity.
Get matched to the best program for you
Let us know what you're looking for so we can find the best school for you.
$10,000 — $15,000 Year
2yr/Community College - 2+2 Programs
Certificate/Short Term
Undergraduate
$5,000—$10,000 Semester
Bachelor Degree
Certificate/Short Term
2yr/Community College - 2+2 Programs
$5,000—$10,000 Semester
Certificate/Short Term
Bachelor Degree
Masters
Start your U.S. adventure with Study in the USA
What's your dream? We can guide, advise, and connect you with your perfect U.S. school. We can also help you with the application process.
Partner Services
Learn About U.S. education financing, housing, and more
Choose an entire apartment, a studio, a shared room, or a private room, with 24x7 assistance from Personal Student Advisors. Book Now!
Follow your dreams with the TOEFL iBT® test, which has helped millions of students study abroad.
International STUDENT & SCHOLAR Health Insurance provides important protection against unexpected medical expenses for Accidents, Illnesses and Medical Evacuation while Studying or Traveling Abroad. Protect yourself and Study Safely, with a Stud...
Resources
Learn about American culture and education direct from our experts at Study in the USA. Read more