Two Berkeley Global Programs, One Bright Future
By Jill Vanderkar
While pursuing his undergraduate studies in business management at Universidade Salvador in Brazil, Rafael Sampaio began accumulating work experience as a risk assurance associate at PwC Brazil then went on to work for Deloitte Brazil. With Deloitte Brazil, he performed consultations while working on cost-reduction projects, adding data analysis skills to supplement his undergraduate degree.
But after college, Rafael wasn't sure of what he wanted to do for his career. He was tired of doing the same projects and tasks. He was ready for something new.
"All I knew was that I wanted to be in business," Rafael says. "I loved the consulting job, but it was the only work experience I knew. I was at a point where I was lost and ready for change. I wanted to try something new and different. I wanted to learn more and started to look to see what the top universities had to offer."
During his research, Rafael became intrigued with Silicon Valley and all the possibilities this area opens.
Can you tell us a little about your first semester with Berkeley Global?
I had come across the Project Management Full-Time Certificate Program. It seemed to fit exactly what I was looking for in a study-abroad program.
I also had a friend who did a program with Berkeley Global and highly recommended it. I was excited to be accepted into the program. I then came to Berkeley in the spring of 2017. After the semester ended, I continued on with an internship at Connection Silicon Valley. For five months as a project manager, I gained experience in Silicon Valley and experienced its ecosystem.
I loved the program and learned a lot. However, I wanted to continue my education even further. I then decided I wanted to apply for another Berkeley Global program.
What was your second program like?
I was accepted into the Spring 2019 cohort in the Berkeley Haas Global Access Program to learn more about entrepreneurship and new technologies. All of the courses I had with Professor Andrew Isaacs were amazing.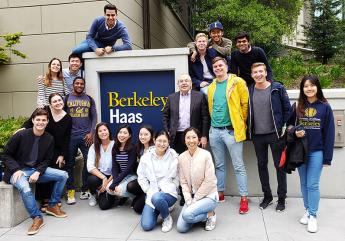 That man is a genius! He was able to communicate with a large group of people who came from all over the world and clearly explained technology trends and its uses.
Also, I loved Professor Barry Swartz's 'Decision Making' course.
I felt like I was at a TED Talk every week. He made me rethink every decision I was making. Overall, the courses at Berkeley taught me to have a whole new mindset in business and entrepreneurship.
It sounds like you enjoyed the academics in both programs, but what were your favorite things to do outside of the classroom?
Although I enjoyed all of what both BHGAP and the Project Management program had to offer, I still made time to explore California and try new things outside of the classroom.
I went skydiving in Davis, California, and had the best time!
I enjoyed going to BBQs with friends when the weather was nice. I would do this almost every week.
Going to concerts was awesome. The Bay Area has some of the best concerts I have ever experienced.
Visiting the Exploratorium in San Francisco was always fun.
I loved to bike and skate around San Francisco while sightseeing.
I recommend future students to enjoy the whole experience as much as you can and don't waste any time. It all goes by so fast. You will meet a lot of amazing people if you put yourself out there. Work hard, play hard, and have fun.

Now that you've completed both programs, what are you doing now?
I'm a product manager for a company called OneBlinc located in Miami, Florida. Our company provides loans for people who don't have a high credit score. I consider myself a translator between the business and technology sides of the company. Everyone is working remotely now and harder than ever.
While on a trip to Florida to visit my mom, I got this job. Employees of Oneblinc, Fabio Torelli and Gilberto Hackl, got in contact with me. I met them both in Silicon Valley, but they now live in Florida and Canada, respectively. Fabio gave me a call and asked to meet for coffee. He told me he needed to hire someone for his company to work in finance. I was worried because this was something that I wasn't necessarily interested in at the time.
But he believed in me and told me to give the job a shot for two months — just to see if I enjoyed it.
One year later, I am still with the company and love it. I was in the right place at the right time. Berkeley opened a lot of doors for me. I have learned so much about the business and finance world. Also, without having the opportunity to network within the Bay Area, I wouldn't have the job I have today.
I often think about a quote instructor Gregory Le Blanc said: "Do what you do best. You can't be an expert in everything." This definitely relates to my current role.
Written by
Jill Vanderkar
Get matched to the best program for you
Let us know what you're looking for so we can find the best school for you.
$5,000—$10,000 Semester
Bachelor Degree
Certificate/Short Term
2yr/Community College - 2+2 Programs
$10,000 — $15,000 Year
2yr/Community College - 2+2 Programs
Certificate/Short Term
Undergraduate
$1,000—$5,000 Session
Masters
2yr/Community College - 2+2 Programs
Undergraduate
Start your U.S. adventure with Study in the USA
What's your dream? We can guide, advise, and connect you with your perfect U.S. school. We can also help you with the application process.
Partner Services
Learn About U.S. education financing, housing, and more
Choose an entire apartment, a studio, a shared room, or a private room, with 24x7 assistance from Personal Student Advisors. Book Now!
Follow your dreams with the TOEFL iBT® test, which has helped millions of students study abroad.
International STUDENT & SCHOLAR Health Insurance provides important protection against unexpected medical expenses for Accidents, Illnesses and Medical Evacuation while Studying or Traveling Abroad. Protect yourself and Study Safely, with a Stud...
Resources
Learn about American culture and education direct from our experts at Study in the USA. Read more