By Pietro Rossini
She knows what's like living abroad, far from her own country, and learning how to speak a new language. But now she is in the U.S., where she was born, and helps international students achieve their life goals. Anne Roberti is the assistant director of the ESL program at Framingham State University (FSU). Her passion for teaching a second language started when she was just 7 years old. At primary school, in fact, she chose to study French, and she loved it since the first class. When she then started high school, her passion for studying new languages grew with Spanish and Latin. However, it was in the first year of college when her dream started to become something real. Finally, she had the opportunity to study abroad first in France and then in Ecuador.
"My experience abroad helps me to better understand students who come to the U.S. because I know what's like!" Indeed, Anne had experienced for herself what it means to arrive in a new country and face the challenges of sharing the dorms with strangers; to learn a new language; the difficulty of expressing her ideas and needs. "And the first time is challenging but with the help of friends and good teachers, it becomes less difficult." Also because of her experience, Anne is aware of a time when more students came to the U.S. for higher education. She thinks that the biggest challenge now for international students in the U.S. are the current immigration policies; however, she remains hopeful for the future.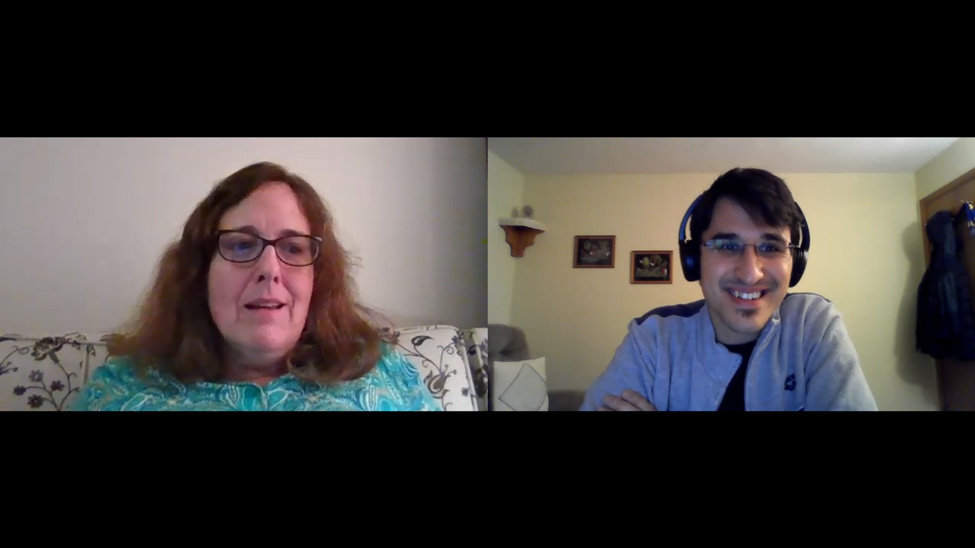 Anne Roberti and Pietro Rossini during the interview on Zoom.
But never despair. "Everyone should have the opportunity to travel abroad. It's such an enriching experience!" Anne shares that coming to the U.S. is a great chance for students worldwide. "The U.S. is a country where you can find so many cultures and different points of view. That's the beauty of the United States!" Anne's greatest satisfaction is every time she can see some of her students reaching his or her goals. She is just grateful when someone comes back to her telling his or her own achievements. "There is nothing better than a student who's able to achieve his goals, and knowing that I was part of that journey gives me joy."
The pandemic has changed education worldwide, and it affected Anne's ESL program as well. She shares that at the beginning nobody was able to see COVID-19 as a pandemic. "We just thought that was a very dangerous illness, but nothing that could have affected the world in the way it's doing." And actually, FSU acted very wisely. After the spring break, indeed, the school ordered us to switch to remote learning. Moreover, to keep programs going on, the university created workshops to train teachers on how to use Zoom and other platforms. "We've never heard about this program before," comments Anne, "but now it has become our daily bread." And she continues, "Students are very resilient. They adapted very well to this change." For sure education won't look the same in the future because of this pandemic. "I hope we'll go back to class after it; however, these online platforms showed that new ways of learning are possible. And maybe some universities may still use hybrid models for their programs after the pandemic."
Even for other teachers, Anne has some advice: "A teacher should be open-minded and able to learn from her students. A teacher that is not able to adjust to the process of learning of the students is not a good teacher. I should listen to them and be flexible according to their level."
Anne is a passionate PhD teacher in linguistics who had the opportunity of living abroad. This experience allows her to put herself in the shoes of other international students who come to the U.S. to reach their goals. Her perspective gives us hope that together we can overcome all difficulties and challenges even during the pandemic. Another testimony that studying abroad is a worthwhile experience.
---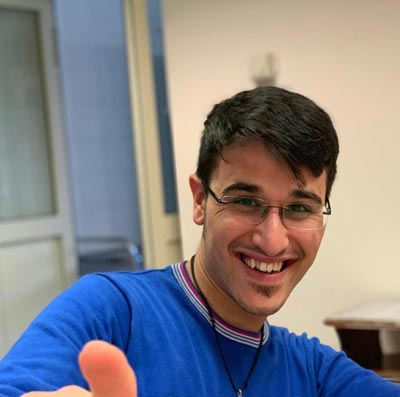 Pietro Rossini is a Xaverian Missionary and ESL student at Framingham State University. He came to the U.S. in January 2020 with the purpose of studying for a master of arts in journalism at Boston University. His dream is to collect and share stories of humanity around the globe, making the world a single family.
Written by
Pietro Rossini
Get matched to the best program for you
Let us know what you're looking for so we can find the best school for you.
$10,000 — $15,000 Year
2yr/Community College - 2+2 Programs
Certificate/Short Term
Undergraduate
$5,000—$10,000 Semester
Bachelor Degree
Undergraduate
2yr/Community College - 2+2 Programs
$5,000—$10,000 Year
2yr/Community College - 2+2 Programs
Certificate/Short Term
Undergraduate
Start your U.S. adventure with Study in the USA
What's your dream? We can guide, advise, and connect you with your perfect U.S. school. We can also help you with the application process.
Partner Services
Learn About U.S. education financing, housing, and more
Join over 6 million people and businesses who get a better deal when they send money with the real exchange rate.
Ready to take your language learning to the next level? Have you heard about TutorABC, the World's No. 1 Online Platform for Learning English and Chinese? TutorABC is recognized as the top language platform, harnessing innovative technology to offe...
IELTS is the world's most popular English language proficiency test for higher education and global migration. It is accepted by more than 3,400 institutions in the US. If you want to study in the US, IELTS can help you get there!
Resources
Learn about American culture and education direct from our experts at Study in the USA. Read more