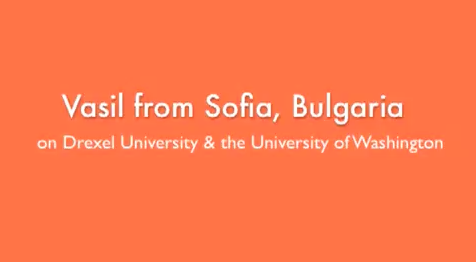 In our effort to bring good content to as many people as possible the text in this blog post has been machine translated so please excuse any mistakes. Thank you!
Vasil is from Sofia, Bulgaria. He received his Bachelor of Science degree in Business Administration with a dual concentration in Accounting and Finance from Drexel University in Philadelphia, Pennsylvania. Today Vasil is working toward his M.B.A. (Master of Business Administration) degree at the University of Washington in Seattle, Washington.
I interviewed Vasil in the Foster School of Business Library on the University of Washington campus.
Watch the video to hear about Vasil's experiences as an international student, his opinions on Drexel University and the University of Washington, and his thoughts and advice on studying within the U.S. education system. Vasil also talks about financial aid, co-op (or work-study) programs, his first days of school in the U.S., what he misses most about home and how living in the U.S. has changed his world view.
You can watch this and other student interviews at our YouTube channel: StudyUSAvideo
To watch the trailer for the Vasil interview go to: http://www.youtube.com/watch?v=RawM1J-ridc
To watch the full interview go to: http://www.youtube.com/watch?v=eENDulo25M0
And let us know what you think!
If you have a similar video about U.S. education that you'd like to share, please let us know. We welcome your submissions. And we may publish your film on StudyUSAVideo!
Send video submissions to: marketing@studyusa.com