Mardi Gras! International Students at Loyola University New Orleans Celebrate!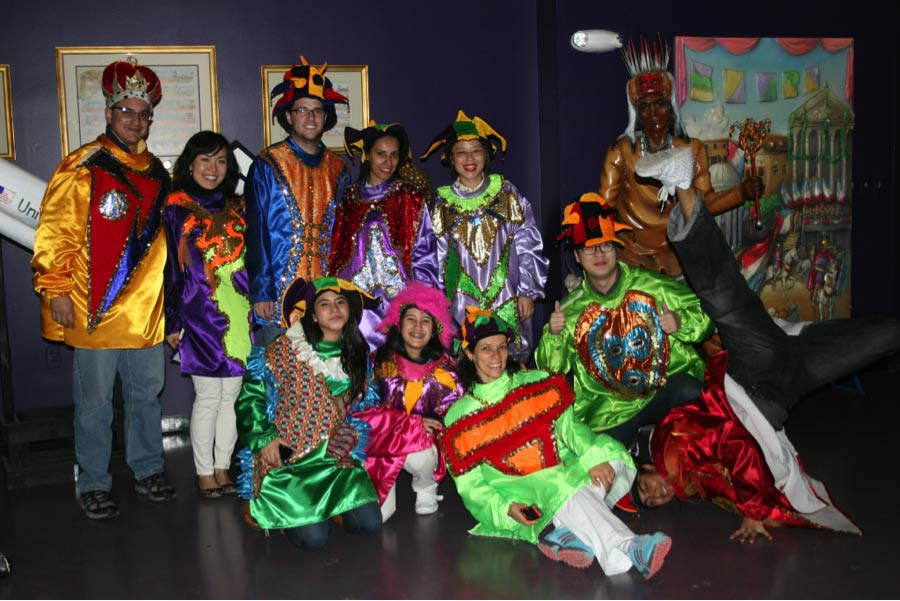 On Tuesday morning, most of the United States will wake up and go to school or work.  They will probably do what most people do on a Tuesday: work out, cook, clean, spend time with their families, and then go to bed.  In New Orleans (and several other places along the Gulf Coast of the United States, such as Mobile, Alabama, and Biloxi, Mississippi), Tuesday is Mardi Gras, a massive pre-Lenten celebration! Mardi Gras is a large celebration that happens every year in the springtime.  Mardi Gras is always the last Tuesday before the Catholic holiday, Ash Wednesday.  Ash Wednesday is the beginning of Lent, the 40-day period before Easter.  The date of Mardi Gras changes each year based on the date of the Easter holiday.  Lent is a time of prayer and reflection for Catholics.  Many Catholics "give up" things that they enjoy during this time—for example, eating certain types of food or drinking alcohol.  Mardi Gras season is a time for everyone to celebrate before this serious time of prayer and reflection begins! Many years ago, settlers from France and Spain brought Mardi Gras and Carnival traditions to the United States.  These traditions included wearing a costume, eating a special sweet cake called "king cake," and having large fancy dances.  Over time, Mardi Gras in the United States started to become different from the way it was celebrated in other places.  We developed our own customs and traditions that are now associated exclusively with Mardi Gras in the Untied States.  While Mardi Gras is celebrated in several other U.S. cities, it is most famously associated with New Orleans. Although Mardi Gras day is technically only on Tuesday, Mardi Gras season starts every year on January 6.  During the Mardi Gras season, there are many activities in and around New Orleans.  New Orleans at Mardi Gras time has been called the greatest free show on Earth because most of these activities, like our parades, are free and open for everyone to participate!  On the days leading up to Mardi Gras, there are parades almost every night.  Mardi Gras parades are different than regular parades because the people marching and riding in the parade throw you things, like beads, cups, and toys. Students at the Loyola Intensive English Program often ask us, "What is the best way for me to enjoy Mardi Gras?"  Here are a couple of tips that we give them:
You should shout, "Throw me something, mister!" at the people riding and marching in the parade.  The increases your chances of the riders throwing you something!
Even if you don't want to catch anything, go watch the parades so that you can see the beautiful floats.  There are also dozens of marching bands that come through and play energetic music as well as many different groups of organized dancers!
On Mardi Gras morning, wake up early, hit the parade routes, and wear a costume!  Everyone is wearing a costume that morning, and you will feel left out if you aren't wearing at least a mask.
If you don't understand something, ask the person standing next to you.  New Orleanians are famously friendly and love to tell Mardi Gras newcomers all about their favorite holiday.  Plus, it will give you a chance to practice your English during Mardi Gras vacation!
Next week, we will share some of the reactions to the holiday from our students.  Until then, we wanted to share with you some pictures of our students and staff preparing for Mardi Gras!
Valeria gets the "baby" at a Center for International Education king cake party!  The tradition here is that the person who gets the baby in their piece of cake must bring king cake to the next party.
Marcela (left) and Maripili (right) show off their Mardi Gras costumes with Christina at the LIEP Mardi Gras party.
LIEP and Loyola students stand out along the parade route for their first parade.  They'll tell you what they thought about their experience next week!