In our effort to bring good content to as many people as possible the text in this blog post has been machine translated so please excuse any mistakes. Thank you!
Carnival and Chinese New Year are both February holidays and are also both celebrated all over the United States. [caption id="attachment_1440" align="aligncenter" width="259"] Chinese New Year fireworks[/caption] Chinese New Year, also known as Spring Festival and Lunar New Year, is traditionally a time to honor deities and ancestors, but, according to legend, it began with the fight against the mythical beast called the Nian. It is said that the Nian would come on the first day of the new year to eat livestock and crops and anything else that came across its path. The color red was thought to frighten the Nian. That's why today, red is the predominant color for Chinese New Year celebration. [caption id="attachment_1439" align="aligncenter" width="271"]
Chinese New Year parade[/caption] Traditionally, Chinese New Year lasts 15 days. Even within China, types of New Year celebrations include wide ranging regional customs and traditions. But one commonly observed custom is: on the evening before Chinese New Years Day, which will be on Sunday, February 10th this year, families gather for an annual reunion dinner. Prior to this, houses are thoroughly cleaned to sweep away ill-fortune and make way for good luck in the coming year. Happiness, wealth, longevity and good fortune are popular themes and these are all expressed and celebrated with splashes of bright red colored paper and decoration. [caption id="attachment_1436" align="aligncenter" width="390"]
performance celebrating Chinese New Year[/caption] Each new year, a different animal from the Chinese zodiac chart is designated as the symbol for that year. 2013 will be the year of the snake. The snake is said to signify change, or a shedding of old skin. Innovation and technological advancement have been sited as areas of change for 2013. Cleverness and flexibility are also characteristics of the snake. So is unpredictability. What do you think will come about during the year of the snake? In the U.S., hundreds of towns across the country have their own Chinese New Year parades and celebrations. Here are a few of the cities known to have some of the most festive Chinese New Year celebrations: San Francisco, New York City, Los Angeles, Chicago, Houston, Philadelphia, Washington D.C., Seattle and Boston. [caption id="attachment_1444" align="aligncenter" width="425"]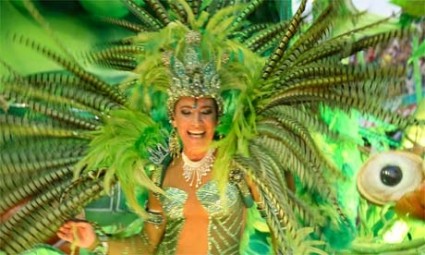 Carnival - Rio de Janeiro[/caption] Carnival is also known as Carnaval, or Carnavale. Many attribute Carnival's tradition of feasts and celebration to the coming of Lent, a Christian holiday during which no rich foods or parties are allowed. The Carnival tradition of masquerade balls were first recorded in Medieval Italy. It is also thought that Carnival may have originated from ancient Roman festivals. Today, Carnival celebrations can be found in countries all over the world. In Brazil, the first celebration was recorded in Rio de Janeiro in 1641, when D.João IV was crowned in Portugal as a King. Rio de Janeiro still prides itself in putting on some of the most festive Carnival celebrations worldwide. These are a very big part of Brazilian culture and are called by many Brazilians "The Greatest Show on Earth." A large and festive parade, which incorporates local culture, music and dance is held in the vast, Carnival designated, Sambadrome, (or Sambodromo,) in Rio de Janeiro each year. Many come in masquerade and public celebration can last for days. [caption id="attachment_1445" align="aligncenter" width="430"]
Sambadrome - Rio de Janero[/caption] In the U.S., the biggest type of Carnival celebration is called Mardi Gras. Mardi Gras is French for Fat Tuesday, which refers to the practice of eating richer, fatty foods before ritual fasting. Mardi Gras was first celebrated on the Gulf Coast of the United States, but now these types of celebrations take place all over the country. The best known Mardi Gras celebration in the U.S. is, of course, in New Orleans. New Orleans' Mardi Gras lasts two weeks and includes festive parades, masquerade balls and cake parties. According to Wikipedia, "Mardi Gras celebrations are most common in the Southern United States, including Texas and the western Panhandle of Florida. They originated in the onetime French Colonial capitals of Mobile, Alabama; New Orleans, Louisiana; Biloxi, Mississippi; and Pensacola, Florida, all of which have celebrated for many years with street parades and masked balls." But there are also popular Mardi Gras celebrations in Michigan, Missouri, Oklahoma, Pennsylvania, Wisconsin and California. The Mississippi Valley region of St. Louis, Missouri, Orlando in Florida, and the Gaslamp Quarter of San Diego are a few of the towns that host these events. In the Mardi Gras capital of New Orleans, this year's festivities will come to an exciting close on Tuesday, February 12, with a whopping 9 parades scheduled on that day in New Orleans and in nearby towns. [caption id="attachment_1446" align="aligncenter" width="475"]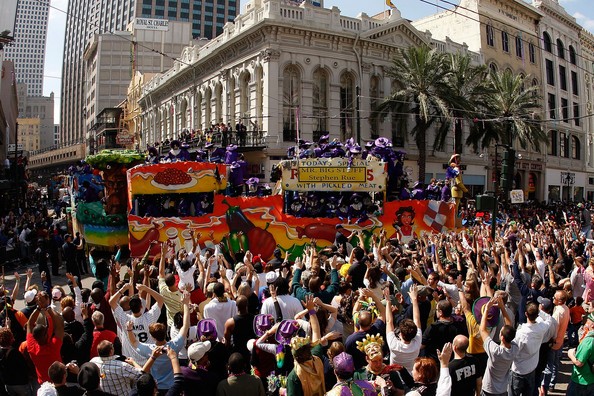 Mardi Gras in New Orleans[/caption] How will you be celebrating this year? Whatever you decide to do to honor these international holidays, we hope you have fun!