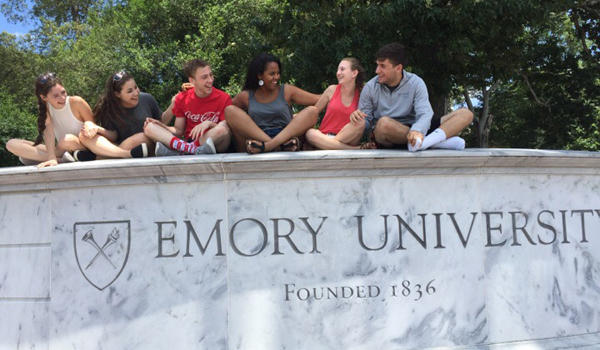 In our effort to bring good content to as many people as possible the text in this blog post has been machine translated so please excuse any mistakes. Thank you!
Is your goal to attend a U.S. University? Get an edge on the competition for college admissions this summer with Emory University's TOEFL Prep Institute.
Experience full language immersion at a top tier U.S. research university. Improve your confidence in reading, writing, and listening skills on a daily basis, while making new friends, and experiencing a slice of U.S. university life.
The Emory Pre-College TOEFL Prep Institute is offered to high-intermediate and advanced students. This three-week course reviews the four basic language skills tested on the TOEFL: reading, listening, speaking and writing. An introduction to the overall format of the test will be covered, including types of questions, answer selection strategies and practice testing.
All students will attend College 101 most weekday afternoons. These sessions are designed to help high school students prepare for their college experience. Coupled with their academic work, College 101 sessions will help students understand the U.S. college admissions process.
FEATURES
• 18 hours of classroom instruction and practice per week.
• Conversation Partner Sessions with English speaking students • TOEFL™ iBT specific skills and strategies
• TOTAL Academic and Residential English Language immersion
• Students supervised at all times by experienced and trained Residential Life Staff
• Transportation provided to local Atlanta TOEFL test centers
TOEFL TEST DATES
July test dates to be announced.
For information about testing dates and testing locations, please visit www.toefl.org
ADMISSIONS CRITERIA
• Applicants must be at least 15 years of age by the date of orientation and must be sophomores or juniors in high school.
• Demonstrate a sufficient level of English proficiency. SKYPE or TELEPHONE interview required.
• Students should be highly motivated and committed to engaging in college-level work during the summer.
VISA REQUIREMENTS
The Emory Pre-College TOEFL PREP INSTITUTE is a non-credit program which allows international students to apply for a B-type tourist visa.
Please note: If your VISA requires an appointment with the U.S. consulate in your home country, you are strongly encouraged to apply by May 1. This is to ensure your Visa is processed by the program start date.
Go here for detailed information.