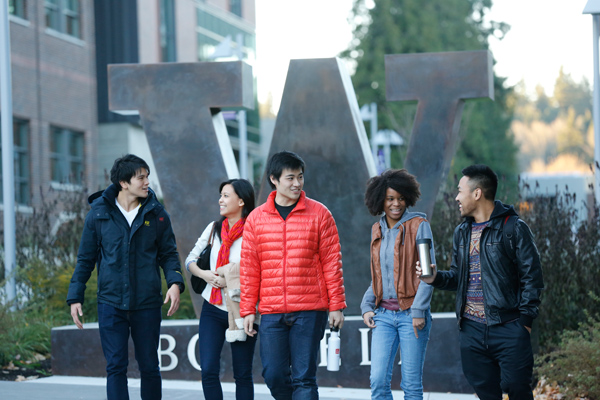 In our effort to bring good content to as many people as possible the text in this blog post has been machine translated so please excuse any mistakes. Thank you!
Whether you like sports, dance or just hanging out with your friends during campus downtime, there's always plenty to do at, or near, University of Washington, Bothell.
UW Bothell, which is part of the internationally ranked University of Washington system, is located 20 miles northeast of Seattle and just to the west of the Cascade Mountains.
The city of Bothell provides a safe environment for you to succeed in your studies. Seattle, a center for medical research, global health, software companies, and biotechnology, is home to many global companies such as Microsoft, Boeing, Amazon.com, Philips Medical, and Starbucks. UW Bothell graduates are increasingly sought after by these leading corporations! The Seattle region offers a unique northwest culture, vibrant arts scene, amazing career development opportunities, and a diverse population just waiting for you to explore!
University of Washington Bothell offers the following bachelor's degree categories:
Interdisciplinary
American and Ethnic Studies (BA)
Community Psychology
Culture, Literature & the Arts
Environmental Science
Environmental Studies
Global Studies
Interdisciplinary Arts
Law, Economics, and Public Policy
Media and Communication
Science, Technology & Society
Society, Ethics & Human Behavior
Science, Math and Health
Mathematical Thinking and Visualization
Biology
Chemistry
Electrical Engineering
Health Studies
Nursing
Mathematics
Climate Science & Policy (BS)
Conservation & Restoration Ecology
Earth System Science
Conservation Science & Management
Sustainability & Society
Mechanical Engineering (BS)
Computers
Applied Computing
Computer Science & Software Engineering
Interactive Media Design
Computer Engineering (BS)
Interactive Media Design (BA)
Business Administration
Accounting
Entrepreneurship
Finance
International Business
Management
Management Information Systems
Marketing
Retail Management
Technology and Innovation Management
UW Bothell also offers Post-Baccalaureate and Graduate Degrees.
Find out more about University of Washington Bothell programs here.
See below for more great photos of students on the UW Bothell campus. (All photos courtesy of University of Washington, Bothell.)