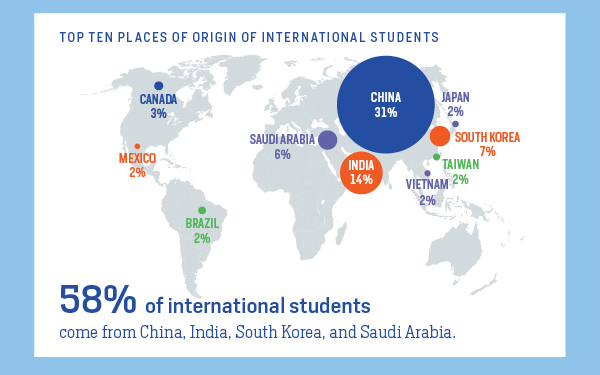 In our effort to bring good content to as many people as possible the text in this blog post has been machine translated so please excuse any mistakes. Thank you!
In honor of International Education Week, National Public Radio has reported that 10% more students came to the United States from around the world to study during the 2014-2015 school year.
975,000 students were accepted to U.S. colleges and universities last year, according to a new report by the Institute of International Education (IIE). (See below for the full IIE Open Doors infographic.)
Among the top U.S. institutions hosting international students in 2014/15:
New York University — 13,178
University of Southern California — 12,334
Arizona State University - 11,330
University of Illinois, Urbana-Champaign — 11,223
Northeastern University — 10,559
University of California, Los Angeles — 10,209
University of Washington — 8,035
Read the article: U.S. Colleges See A Big Bump In International Students on NPR.org.