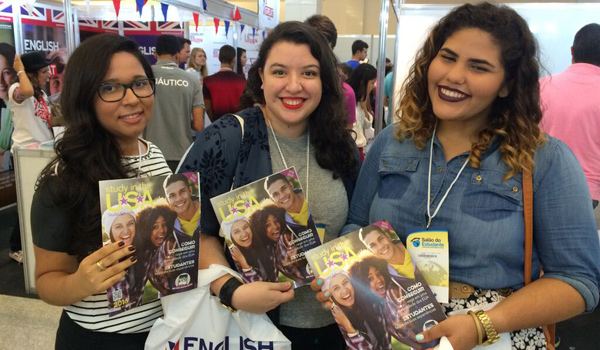 In our effort to bring good content to as many people as possible the text in this blog post has been machine translated so please excuse any mistakes. Thank you!
In this photo, international students at the Fall 2015 Salão do Estudante Fair in Recife, Brazil.
Study in the USA Circulation and Translation Coordinator Wesley Costa just returned from a whirlwind tour of international education fairs in South America. Wesley attended the Expo-Estudiante Colombia Fairs in Bogotá (October 1) and Medellín (October 3 & 4) and the Salão do Estudante Brazil Fairs in Curitiba (September 15), Recife (September 19), Rio de Janeiro (September 24) and São Paulo (September 26 & 27). He answered student questions about studying in the USA, including how to obtain a student visa, how to apply to U.S. colleges and universities, how to research U.S. colleges and universities specific to an individual's field of interest, how to apply for scholarships, how to research and secure student housing, and many other questions about studying abroad.
Below are photos Wesley took at the fairs and some pics of Wesley interacting with students.
For a complete list of international education fairs, visit our International Education Fairs page.
Expo-Estudiante Fairs in Bogotá and Medellín, Colombia
Salão do Estudante Fairs in Curitiba, Recife, Rio de Janeiro and São Paulo, Brazil