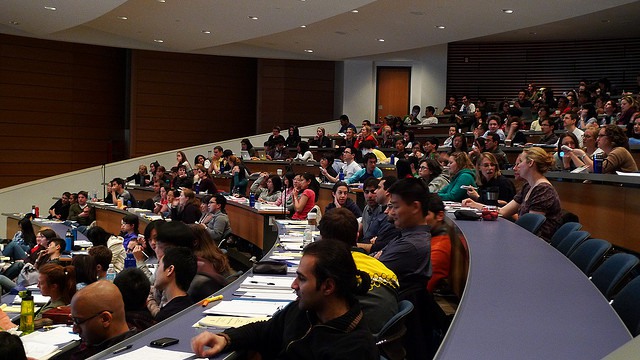 In our effort to bring good content to as many people as possible the text in this blog post has been machine translated so please excuse any mistakes. Thank you!
A class catalogue from most U.S. universities and colleges could be a symbol for a liberal arts education. Some classes clearly pertain to a specific major, while others range from [caption id="attachment_141" align="alignright" width="640" caption="by Velkr0"][/caption] general in their descriptions to tightly specific (i.e. World War I As Expressed In Southern Multi-Ethnic Dance). Dare I say, you can't get more specific than that! You may wonder when you come here to study, why you may be required to take a medley of classes (also known as pre-requisite courses or core classes) that seemingly have nothing to do with your major. You may even feel that this is simply a waste of your time. I encourage you to think otherwise.
"think effectively, communicate thought, make relevant judgments, discriminate among values," stated Harvard's James Q. Wilson, when explaining the purpose of core classes.
He said this in 1977 to
TIME magazine
and the philosophy supporting the purpose of a liberal arts style education has not changed much. Educators want you to receive a well-rounded education, think independently and "
outside of the box
." Developing these abilities exercises your mind and give you a competitive edge. The
Encyclopedia Britannica
defines liberal arts as:
"college or university curriculum aimed at imparting general knowledge and developing general intellectual capacities in contrast to a professional, vocational, or technical curriculum."
Students may be required to take courses in psychology, writing, speech, art, and possibly others, all to serve the greater goal of cultivating and diversifying a student's thinking. These core classes will benefit you in whatever profession or major you choose. Even if you go into, say, information technology taking a basic psychology course will help you understand and work with people. Speech and writing classes will provide you with skills that you could apply when giving presentations, writing proposals, papers, and essays, and let's not forget applying for jobs. When it comes to registration, have fun in choosing your core classes. You have to take them anyways, so you might as well pick classes that pique your curiosity. So, I have had a few majors and I graduated with a journalism degree, but here were some of my favorite non-major courses:
Women's Art Studies
Drawing 101
Environmental Science
Eastern Religions
Persuasive Writing