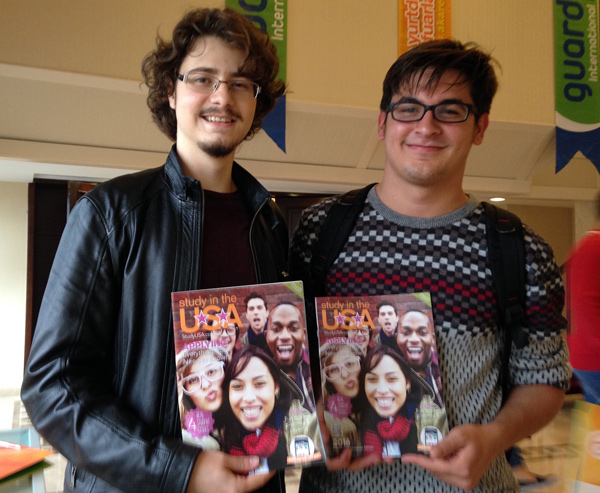 In our effort to bring good content to as many people as possible the text in this blog post has been machine translated so please excuse any mistakes. Thank you!
Photo: Students at the Fall 2015 A2 International Education Fair in Istanbul
At education fairs, you can:
Speak directly with representatives of U.S. universities, language programs and summer schools
Visit each school's booth, talk with people who teach and work there, and take home brochures and applications
Below is the schedule of fairs where Study in the USA will be present. Come say hello, and pick up a copy of the new edition of Study in the USA Magazine!
Upcoming Fairs:
Guyaquil, Ecuador: October 17 EducationUSA Fair Circuit
Bogotá, Colombia: October 19 EducationUSA Fair Circuit
Caracas, Venezuela: October 21 EducationUSA Fair Circuit
Istanbul, Turkey: October 17-18 28th IEFT Int'l Education Fairs
Doha, Qatar: October 27-28 Global Education Fairs/ME
Dubai, UAE: October 21-25 Linden Boarding SchoolsTours
Doha, Qatar: October 26-28 Linden Boarding SchoolsTours
Kuwait, City: October 29-31 Linden Boarding SchoolsTours
Taipei, Taiwan: October 17-18 American Education Fair
Beijing, China: October 24-25 China Education Expo (CEE)
Chengdu, China: October 27 China Education Expo (CEE)
Hong Kong, China: November 19-21 Linden Boarding SchoolsTours
Seoul, Korea: November 22-23 Linden Boarding SchoolsTours
Bangkok, Thailand: November 14-15 Int'l Education Expo
HCMC, Vietnam: October 27 Capstone International Boarding & Day School Fairs
Hanoi, Vietnam: October 29 Capstone International Boarding & Day School Fairs
Hanoi, Vietnam: November 9-10 Linden Boarding SchoolsTours
Ho Chi Minh City, Vietnam: November 11-12 Linden Boarding SchoolsTours
Kuala Lumpur, Malaysia: November 13-15 Linden Boarding SchoolsTours
Jakarta, Indonesia: November 16-18 Linden Boarding SchoolsTours
Visit our International Education Fairs Page for a complete list of Fall 2015 fairs.