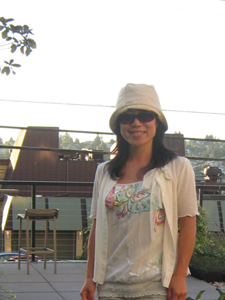 In our effort to bring good content to as many people as possible the text in this blog post has been machine translated so please excuse any mistakes. Thank you!
  MK came from Tokyo to the United States in 1999. She studied Graphic Design at Spokane Fall Community College. Here is what she remembers about her first day of school ...  My first day of school in the United State was a mix of excitement and nervousness.  I had to take bus to school by myself, and was very worried if I could make it to school without getting lost.  I remember I was so relieved when I got to school. The first things I had to do at school were filling out some documents, taking English and math tests, and attending an orientation. 
I made some friends at the orientation, which made me unwind.
I was, however, very nervous at the first class again.  I couldn't really understand what the professor was talking about, so I kept bothering him with many questions after the class.  I remember I kept sighing each time the class finished as I had to concentrate all my thoughts on the lecture.
The thing I was surprised the most was that students were eating food in the class.  In Japan, it's not appropriate.  And I was surprised to hear students called the professors with their first name, instead "Professor XX".  I also felt a little funny to see many students carried small suitcases to school, which I thought later made sense as they had to carry many heavy textbooks.  I was very amazed how students were interactive in the class.  Many students in Japan are very quiet and tend to try not to make eye contacts with professors so they can avoid getting questions!