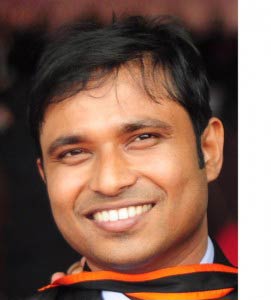 In our effort to bring good content to as many people as possible the text in this blog post has been machine translated so please excuse any mistakes. Thank you!
I was introduced to Helal through email and once I read the first few words of his email I was smiling. He is so exuberant about his country and life - it's contagious! Every once and awhile, Helal will be visiting the blog to tell you a little bit about his experience studying in the USA. So, without further adieu, please meet Helal Uddin:
Name
:
Helal Uddin
Home Country
:
 Bangladesh
Atten
ds:
University of Nevada, Reno
Studies
:
Pursuing his PhD. in Chemical Engineering
Favorite Music:
  It may sound old fashion but I love classical music and country songs. 'Country Road Take me home' by John Denver and 'Summer of 69' by Bryan Adams are two of my favorite songs.
Food he Craves:
 I believe Bangladesh is one of the few countries where all kinds of spices are available. So any kind of spicy food is delicious to me!!
A little about my country...
Do you know anything about Bangladesh? Where is it on the map? How big or small is it? I am pretty sure that you don't know. I am from Bangladesh, a tiny deltaic South Asian country sharing borders with India and Myanmar. In size, it's half of Nevada! The sweet story about my country is that we have the world largest seashore and the Mangrove Forest. And don't forget the warm hospitality from our common people. We were one of the strong contenders of the '7 new wonders' in the world. There are 160 million people and we are the world's densely populated country! This is in brief about my country. If you wanna learn more then go
here
!
How I ended up studying in the USA...
After completing my undergraduate in Chemical Engineering, I was looking for higher studies in Chemical Engineering from a country like U.S.A. I started to email different schools and their faculties about my ambition and most luckily I got a positive response from the
University of Nevada, Reno (UNR)
and they offered me RAship (Research Assistant position). That was really exciting and memorable for me but coming to the U.S.A. was not a good story for me because I faced my
visa
interview pretty early. But I got visa just right before the end date of my I-20! I came at UNR in the Fall of 2011.
There is a famous moral anecdote "Go to China for learning." It does not mean to travel to China, but rather to search for knowledge at various places!
That's why, when I see someone from another country I try my best to talk and learn about their cultures and heritages, and eagerly await to share my cultures and traditions. I don't wanna miss any chance of knowing and learning.