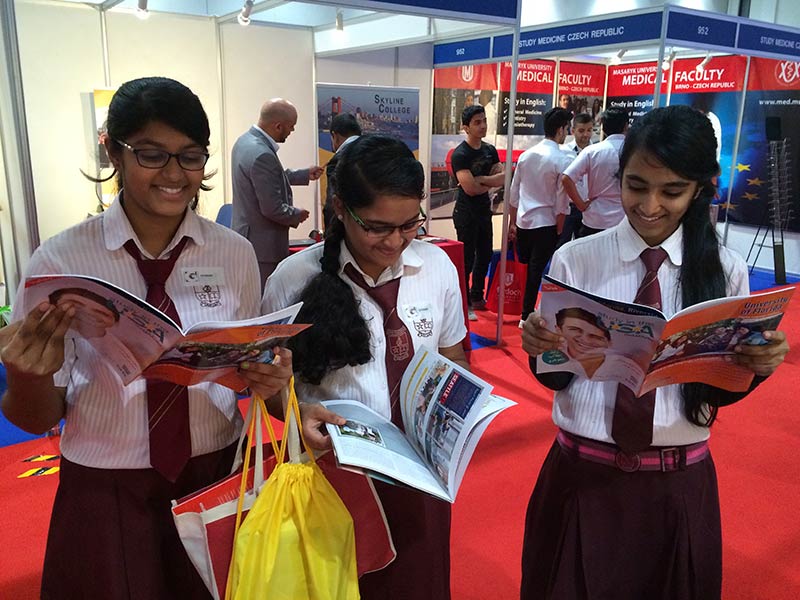 In our effort to bring good content to as many people as possible the text in this blog post has been machine translated so please excuse any mistakes. Thank you!
Study in the USA
's Circulation and Translation Coordinator, Wesley Costa, recently attended Spring 2015 international education fairs in Dubai and China.
A quick snapshot from Wesley:
In Dubai, I attended the Gulf Education and Training Expo (GETEX) on April 15 - 17. The fair took place at the Dubai World Trade Center - a very modern convention center.
UAE is a mix of nationalities - I met students and from several different countries such as India, Jordan, Qatar, Lebanon, Iraq, Iran, Yemen, Tunisia, Saudi Arabia, Afghanistan, Pakistan, Greece, Russian, New Zealand and South Africa among other countries.
There were universities from all over the world and several local ones. Only a few from the United States such as Skyline College (San Bruno, CA) and George Mason University (recruiting for their Korea Campus).
Most people in Dubai speak English, so that was very convenient for me and I didn't have to hire an interpreter. English is widely spoken - many locals know excellent Engllsh; some are bilingual or even trilingual.
This was a great opportunity to talk to students and address their questions about the American schools admissions process, which a lot of students don't understand or find complicated.
Coming soon: Wesley's CIEET China photos!
Image: Wesley Costa (r.) and fair attendees at GETEX Dubai, Spring 2015