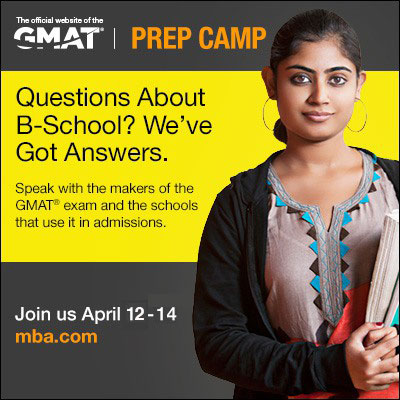 In our effort to bring good content to as many people as possible the text in this blog post has been machine translated so please excuse any mistakes. Thank you!
GMAT® Prep Camp – Your Participation Pays Off
Learn about the GMAT® exam, improve your study skills, and take part in an online scavenger hunt for a chance to win prizes.
The GMAT Prep Camp, a free, three-day global online event from April 14-16, will help you prepare for your best GMAT, as well as success in the classroom and in your career.
During the event, live chats hosted by the GMAT team and leading business schools around the world will help you plan for test day and understand why b-schools value the GMAT® exam in their admissions.
Participating in GMAT Prep Camp events makes you eligible for a drawing to win a GMAT® exam voucher worth US$250 as well as other official GMAT prep materials. And during the entire three-day event, you can save 15% on all official study materials.