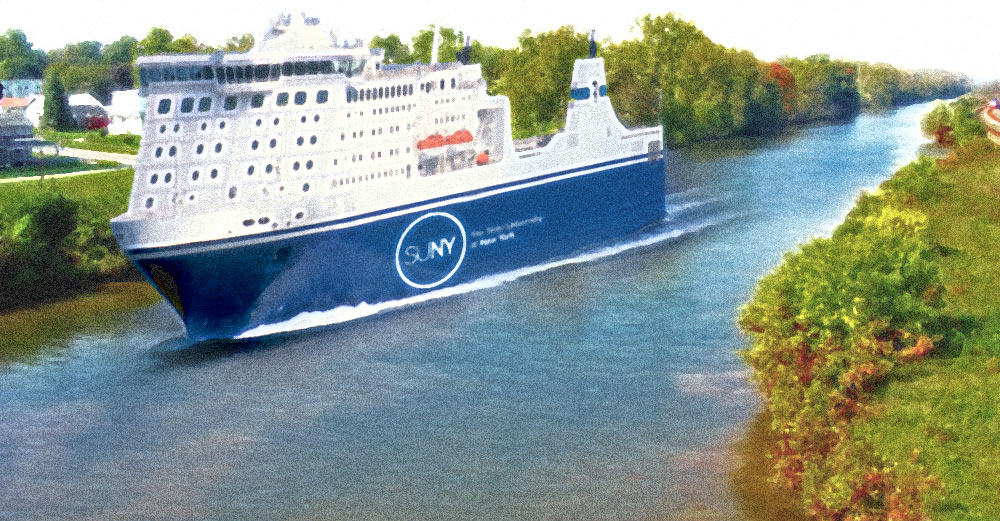 In our effort to bring good content to as many people as possible the text in this blog post has been machine translated so please excuse any mistakes. Thank you!
Image: An artist's rendering of the new SUNY flagship campus, SUNY Deep Blue
---
From the State University of New York blog:
The State University of New York Announces Creation of New Flagship School
by Atiba Archibald, a senior at SUNY Albany
This new university, the 65th campus within the SUNY system, will be an educational sea vessel.
Students will gain professional experience:
At SUNY Deep Blue, applied learning opportunities will be available for all students. Enrolled students will be able to be a part of the ship's operations centers, from engine maintenance to culinary work, as a way to get the most out of their education and bridge the gap from college to career.
And the vessel, and its students, will travel:
A Study Abroad opportunity is available to all students. Every week, the ship docks at a different location allowing for maximum cultural exposure. Long Island, Lake Ontario, Albany, Niagara Falls, and even the occasional excursion overseas, every day will simply be an adventure at SUNY Deep Blue.
Other SUNY campuses:
State University of New York, Buffalo
State University of New York, Geneseo
State University of New York, Plattsburgh
Rockland Community College, State University of New York