International Education Fair Schedule for Spring 2015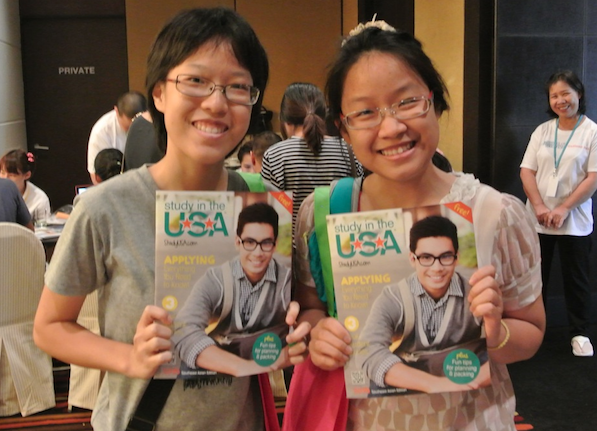 Student education fairs give you a chance to speak directly with representatives of U.S. universities, language programs and summer schools. You can visit each school's booth, talk with people who teach and work there, and take home brochures and applications. Below is the schedule of fairs where Study in the USA will be present.
Come say hello, and pick up a copy of the new edition of Study in the USA Magazine!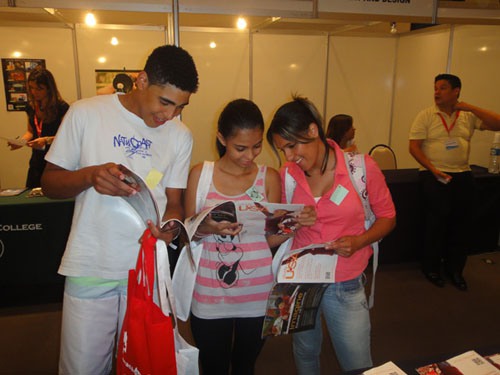 Latin America
| | | |
| --- | --- | --- |
| Location | Event Date | Name of Event |
| São Paulo, Brazil | March 14-15, 2015 | Salão do Estudante 2015 - BMI |
| Recife, Brazil | March 17, 2015 | Salão do Estudante 2015 - BMI |
| Salvador, Brazil | March 18, 2015 | Salão do Estudante 2015 - BMI |
| Porto Alegre, Brazil | March 20, 2015 | Salão do Estudante 2015 - BMI |
| Curitiba, Brazil | March 22, 2015 | Salão do Estudante 2015 - BMI |
| Belo Horizonte, Brazil | March 23, 2015 | Salão do Estudante 2015 - BMI |
| Rio, Brazil (Barra) | March 25, 2015 | Salão do Estudante 2015 - BMI |
| Rio, Brazil (Copa) | March 26, 2015 | Salão do Estudante 2015 - BMI |
| | | |
| --- | --- | --- |
| | | |
| Belo Horizonte, Brazil | April 22, 2015 | 2015 Brazilian EducationUSA Roadshow |
| Recife, Brazil | April 23, 2015 | 2015 Brazilian EducationUSA Roadshow |
| Fortaleza, Brazil | April 25, 2015 | 2015 Brazilian EducationUSA Roadshow |
| Belém, Brazil | April 27, 2015 | 2015 Brazilian EducationUSA Roadshow |
| Cuiabá, Brazil | April 28-29, 2015 | 2015 Brazilian EducationUSA Roadshow |
| Campinas, Brazil | April 30, 2015 | 2015 Brazilian EducationUSA Roadshow |
Europe
---
| | | |
| --- | --- | --- |
| Location | Event Date | Name of Event |
| | | |
| Istanbul, Turkey (European Student) | March 7-8, 2015 | a2 |
| | | |
| | | |
| --- | --- | --- |
| | | |
| Stockholm, Sweden | March 16, 2015 | College Day Scandianvia |
| Helsinki, Finland | March 17, 2015 | College Day Scandianvia |
| Malmo/Capenhagen, Denmark | March 18, 2015 | College Day Scandianvia |
| Oslo, Norway | March 19, 2015 | College Day Scandianvia |
| Reykjavik, Iceland | March 20, 2015 | College Day Scandianvia |
| | | |
| --- | --- | --- |
| | | |
| Istanbul, Turkey (Asian Students) | March 19, 2015 | Edufairs, Asia |
| Istanbul, Turkey (European Students) | March 21-22, 2015 | Edufairs |
| Ankara, Turkey | March 24, 2015 | Edufairs |
| Izmir, Turkey | March 26, 2015 | Edufairs |
| | | |
| --- | --- | --- |
| | | |
| Ankara, Turkey | March 31, 2015 | International Education Fairs of Turkey |
| Izmir, Turkey | April 2, 2015 | International Education Fairs of Turkey |
| Istanbul, Turkey (European side) | April 4-5, 2015 | International Education Fairs of Turkey |
| Istanbul, Turkey (Asian side) | April 6, 2015 | International Education Fairs of Turkey |
| Adana, Turkey | April 8, 2015 | International Education Fairs of Turkey |
| Eskisehir, Turkey | April 10, 2015 | International Education Fairs of Turkey |
---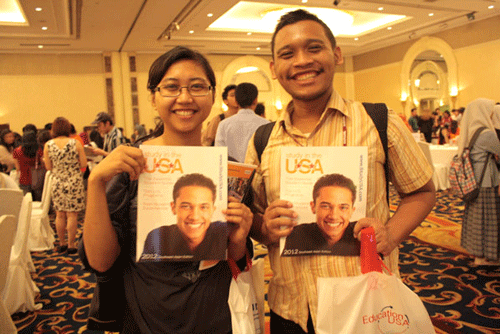 Northeast Asia
Southeast Asia
| | | |
| --- | --- | --- |
| Location | Event Date | Name of Event |
| Ho Chi Minh City, Vietnam | March 4, 2015 | Capstone, StudyUSA Higher Education Fairs |
| Nha Trang | March 5, 2015 | Capstone, StudyUSA Higher Education Fairs |
| Danang, Vietnam | March 7, 2015 | Capstone, StudyUSA Higher Education Fairs |
| Hanoi, Vietnam | March 9, 2015 | Capstone, StudyUSA Higher Education Fairs |
| Quang Ninh | March 11, 2015 | Capstone, StudyUSA Higher Education Fairs |
---
Middle East
---
Fairs at a Glance
Fairs in Asia
US Higher Education Fairs
IIE
American Education Fairs
AIEF
American Education Expo
Oh!Study
EducationUSA Fairs
AMINEF
a2 International Education Fairs
a2
American Education Expo in Asia
ISN
StudyUSA Community College Fairs
Capstone Vietnam
Linden Boarding School Tours
Linden
Fairs in Latin America
Salão do Estudante
BMI
Expo-Estudiante
BMI
American Education Expo in Latin America
ISN
Linden Boarding School Tours
Linden
Fairs in Europe
College Days
College Council
EduFairs
EduFairs
International Education Fairs of Turkey
IEFT
a2 International Education Fairs, Turkey
a2
Linden Boarding School Tours
Linden
Fairs in the Middle East
American Educational Group
USEG
UStudy - Israel America
Israel America
Linden Boarding School Tours
Linden
American Education Expo in the Gulf
ISN
Kingdom of Saudi Arabia/ Ministry of Higher Education
IECHE
Boarding School Fairs
Linden Boarding School Tours
Linden
Visit the International Education Fairs page on StudyUSA.com