International Women's Day is March 8!
International Women's Day, a worldwide recognition of women's achievements and issues, is held each year on March 8.
International Women's Day is a celebration of respect and appreciation towards women. In some countries International Women's Day is also used as a consciousness raising platform for women's economic, political and social achievements and issues.
International Women's Day 2015, or #IWD2015, will highlight the Beijing Declaration and Platform for Action, a historic roadmap signed by 189 governments 20 years ago that sets the agenda for realizing women's rights. The theme of this year's International Women's Day is the UN Women's Beijing+20 campaign call to action: "Empowering Women, Empowering Humanity: Picture it!" IWD2015 will also focus on Planet 50-50 by 2030: Step It Up for Gender Equality.
From Beijing20.UNWomen.org:
This movement asks governments to make national commitments to address the challenges that are holding women and girls back from reaching their full potential within the next 15 years. Launching on the occasion of International Women's Day 2015, Step It Up will showcase specific commitments that governments make, leading up to the United Nations General Assembly in September 2015. The initiative comes at a critical moment in time as a new development agenda is taking shape to replace the Millennium Development Goals.
In a IWD2015 video message, Executive Director of UN Women, Phumzile Mlambo-Ngcuka, declared: We call on countries to "step it up" for gender equality.
Watch the video here:
Links to help you celebrate IWD2015:
From CNN.com: 10 International Women's Day events you'd be crazy to miss
From The Guardian: The women to follow on Twitter talking about sustainability
Official website for International Women's Day 2015
International Women's Day 2015 on UNWomen.org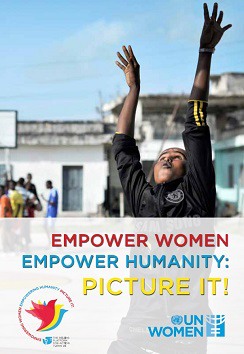 Get matched to the best program for you
Let us know what you're looking for so we can find the best school for you.
$5,000—$10,000 Semester
Summer
Bachelor Degree
Certificate/Short Term
$1,000—$5,000 Semester
English Programs
Certificate/Short Term
2yr/Community College - 2+2 Programs
$1,000—$5,000 Semester
Bachelor Degree
Certificate/Short Term
2yr/Community College - 2+2 Programs
Start your U.S. adventure with Study in the USA
What's your dream? We can guide, advise, and connect you with your perfect U.S. school. We can also help you with the application process.
Partner Services
Learn About U.S. education financing, housing, and more
Most U.S. apartments come unfurnished. Make your move easy with a student furniture rental package from CORT. Flexible lease terms. Delivered before you arrive. Starting at $99 per month.* *with a 12-month lease
Nomad Credit helps international students search for and compare education loan (student loan) options, including options for students with a US cosigner or those pursuing a graduate degree. The Nomad team will personally help you with your education...
Join over 6 million people and businesses who get a better deal when they send money with the real exchange rate.
Testimonials
I wish I had found Study in the USA earlier. They have such a presence and strive to help anyone make their dreams come true.
Boa Astrid Haegg Wass Sweden
StudyUSA.com provided me with important information that was sent to my e-mail.
Carlos Javier Obando Gamboa Columbia
Studyusa.com gave me a lot of idea for my first steps to study in the U.S. They also introduced me to many helpful schools to choose for my career. Thank you so much!
Resources
Learn about American culture and education direct from our experts at Study in the USA. Read more