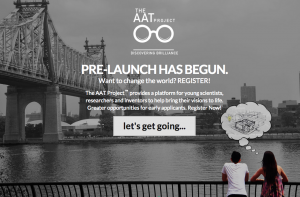 In our effort to bring good content to as many people as possible the text in this blog post has been machine translated so please excuse any mistakes. Thank you!
The AAT (a.k.a. America's Amazing Teens) Project is an online STEM (Science, Technology, Engineering and Mathematics) competition for teens with groundbreaking ideas. It provides a platform for young scientists, researchers and inventors from all over the world to help bring their visions to life. The AAT Project Academy is a collaboration of the worlds of academia, science, finance and media. It has assembled a team of educators from top U.S. universities, industry leaders, and innovators to assure project success. Their online competitions will identify, mentor and manage exceptional teens whose ideas will change the world. The AAT mission: to promote technological and scientific innovation and to change the cultural aspect of what science and math look like by setting a new higher standard for teen role models. From the AAT Project Academy:
We are based in the US, but are open to students all over the world.

Opportunities that will be offered to global students: The Global Monthly Challenge - this will be sponsored by top corporations all over the world. It will focus on a specific field, i.e.: technology. An example of a sponsor would be Google. Each month teens from all over the world will be able to enter their ideas, with the opportunity of winning a cash prize and getting to meet a corporate leader.
Global Youth Ambassador - the AAT Project is always open to learning about brilliant minds. In some cases students will be invited to join our exclusive group of global ambassadors.
Join the AAT community to be notified when everything begins.