From Student Blogger, Marc: A New Challenge
It felt normal when I went to my classes at Northwest College this week, the first after the winter break. I was happy to see many known faces, hang out with friends in the dormitory and continue my volunteer work as a goalkeeper coach. However, I wouldn't describe my life in Powell as routine. Not at all.
Sure, studying in English becomes more and more normal while you live in the United States. I feel that I improved my language a lot since I came from Munich, Germany, to Powell, Wyoming. My roommate said one time I talked in English while I was sleeping, a sign that I have arrived in this country. I don't translate sentences in my head anymore while I'm talking or listening. That's useful for my journalism skills as well, as it's definitely a challenge to write reports in another language.
My new challenge is to improve a skill that I rarely used in my job as a journalist: photography. My goal is to make attractive photos for newspapers, magazines and online sites, especially about sports. I love doing sports, writing about sports and enjoy just watching sports. Now, I also want to capture sports images. It will give me more opportunities as a freelancer, when I not only write about a sports event, but also can shoot quality photos and make videos for a media company. That's what good journalism combines today in my eyes: writing, photography, video – not just one or two of them.
Other students who worked with photography in the first semester are further along than I am right now. My goal is to learn from and with them. And when good photography becomes routine, I'll search another challenge. Enough are waiting.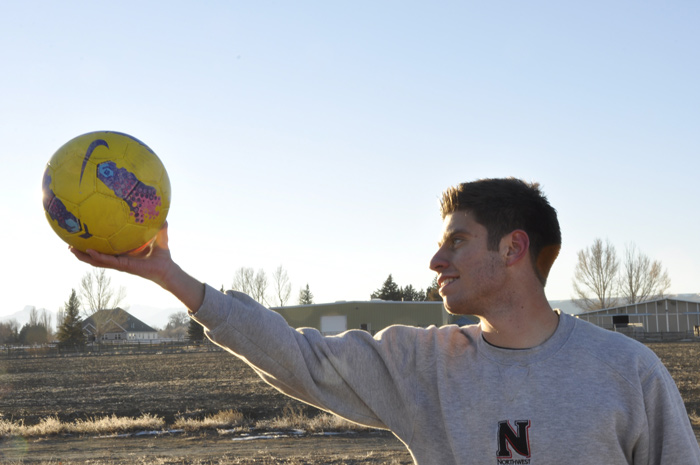 Marc volunteers as a goalkeeper coach at Northwest College.
Photo by Jacqueline Hulse
Marc Lamberger, 24, is from Munich. He is a participant of the Congress-Bundestag Youth Exchange for Young Professionals (CBYX), a fellowship that brought him to Wyoming. A part-time student at Northwest College, Marc Lamberger has worked and studied as a journalist in Germany. He now works as a young ambassador for CBYX. His assignment is to foster the cultural exchange between Germany and the United States. He is one of 75 German fellows who live in the U.S. for one year, while 75 Americans have the same opportunity in Germany. Are you interested in studying for a year in Germany? CBYX offers this possibility to 75 people from the United States every year. The scholarship is for people who are between 18 and 24-years-old and have a high school diploma or equivalent. They also should have completed general coursework in a targeted internship field. Previous knowledge of the German language is preferred, but is not required. All participants of CBYX learn at a German language school in the first two months in Germany. More information at www.cbyx.info or culturalvistas.org. Right now, the program's future is in danger because the U.S. Department of State has cut funding for CBYX by 50 percent for the exchange year 2015-2016. You can help to save the program at savecbyx.org

Get matched to the best program for you
Let us know what you're looking for so we can find the best school for you.
$5,000—$10,000 Year
Online
Certificate/Short Term
2yr/Community College - 2+2 Programs
$10,000 — $15,000 Quarter
English Programs
Bachelor Degree
$10,000 — $15,000 Year
Bachelor Degree
Certificate/Short Term
Summer
Start your U.S. adventure with Study in the USA
What's your dream? We can guide, advise, and connect you with your perfect U.S. school. We can also help you with the application process.
Partner Services
Learn About U.S. education financing, housing, and more
Summer plans suspended because of COVID-19? The deadline's approaching for TheInternGroup's virtual/remote global internship program. Gain professional experience, grow your network and make your resume shine from wherever you are this summer.
Explore the American Dream with the 'My Deals' app from Student Advantage - save on car rentals, hotel rooms, and everyday essentials!
MPOWER Financing is the top-rated lender offering international student loans without cosigners, collateral, or credit history for global citizens, PLUS international student scholarships & career coaching! Fully online application, 96% customer...
Testimonials
I checked their website to search for scholarships and find answers to some frequently asked questions.
StudyUSA.com is informative website for me. I used it to analise information about universities in the USA to choose one of them. This site was useful for me to define my future education.
Aiman Ussenkul Kazakhstan
Just to let you know that I have been accepted by the St Cloud State University for the summer 2019 semester.
Enow-Nkongho Ehabe Cameroon
Resources
Learn about American culture and education direct from our experts at Study in the USA. Read more