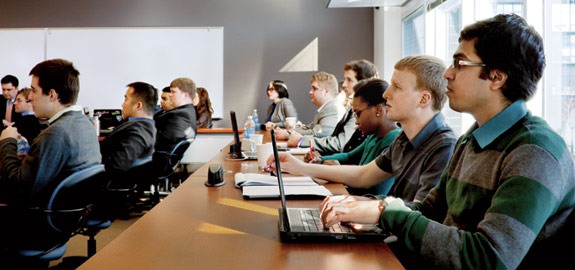 In our effort to bring good content to as many people as possible the text in this blog post has been machine translated so please excuse any mistakes. Thank you!
[caption id="attachment_528" align="aligncenter" width="575" caption="by Jake Stangel, courtesy of Inc. magazine. "][/caption] Their personal wallets may be on the empty side, but M.B.A. students at Williamette University in Oregon are readily spending and investing thousands of dollars a year. So just where are they getting this money? Well from their professor of course! Thrust into real-life business scenarios, students in the University's Atkinson Graduate School of Management evaluate start-up companies seeking investment and then decide on companies in which to invest. As laid out by the University's Angel Investment Fund, students collaborate with their peers and business professionals on a daily basis in order to evaluate deal flow, perform due diligence and make investment decisions. Guided by professor Rob Wiltbank, students bring their experiences to the classroom for three semesters, where they strategize and share their investment experiences. Leigh Buchanan for Inc. magazine:
"Student angels assess entrepreneurs based on criteria laid out by Wiltbank: They must do things on the cheap, measure progress with milestones, and make hay from surprise developments. Recently, students passed on a developer of communications software because, 'though he was a sharp guy, he wanted to spend way too much money,' says Wiltbank. Instead, they invested $50,000 in a leaner legal-software company that ultimately reached $600,000 in sales."
The program recently made Inc. magazine's
The 10 Best Entrepreneurship Courses of 2011
list.