Meet our new student blogger – Jeungwon Lee!
Who am I?
Hello, my name is Jeungwon Lee. I am from Seoul, the capital of South Korea. My home is in Gangnam, which is really famous for the song 'Gangnam Style.' I am studying at Berkeley City College, one of the Peralta Community Colleges, with Media Studies major. I dreamed of becoming a reporter since when I was seven, and I am still pursuing my dream.
I am an active person. I love hanging out with my friends. Also, I am a good listener. If you want to tell me your story, or to ask my advice, it will be my pleasure to listen and answer. My favorite hobby is singing at Karaoke. I am not a good singer, but I enjoy singing. Taking picture is my other hobby. I always capture anything special in my life because I believe taking picture is the best way to save my special moments.
Why did I decide to study in the U.S.?
Studying in the U.S. is a great opportunity and a big challenge for me to make me ready for the future. When I lived in Korea, I had learned English over five years but I could not speak English very well because there was no chance to speak English with foreign friends. I used to work at a company as an intern, and there were so many works required to speak English. From the internship experience, I decided to study in the U.S. to speak English fluently.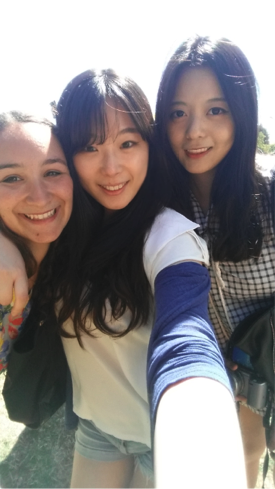 I still remember the first day in the U.S. I was afraid of going outside at that time because I worried about being lost on the street. Also, I felt lonely because I could not share my emotions with English speakers because of my English skills. However, I overcame everything. Now, I consider Berkeley as my second hometown. I have met many friends from different cultures, and I love them so much. Also, there are so many delicious foods here from different countries. I love trying it!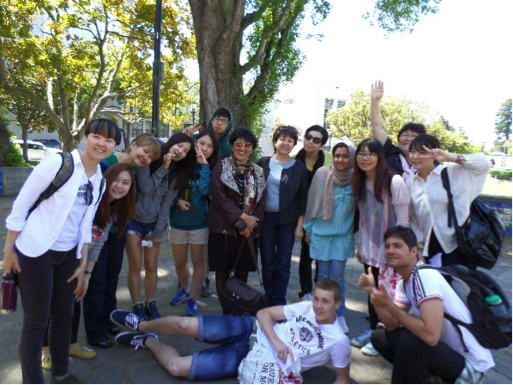 Why am I so excited to be a blogger?
Since I was seven years old, I have written in my diary every day. Also, I always participate in writing contests. I like writing because I feel really happy when I write about people and me. When I read my notebook and diary, I can recall what I was thinking and why I was happy for something before. Also, I love sharing my stories. I am so happy when people empathize with my story. I usually participate in media activities in Korea to share and provide good information and stories. I was so happy when I read email about finding blogger because I was looking forward to be a blogger here! I am would like to share so many things with you. Thank you.
Jeungwon Lee is a student blogger for Study in the USA and is currently studying Media at Berkeley City College, one of the Peralta Community Colleges.

Get matched to the best program for you
Let us know what you're looking for so we can find the best school for you.
$10,000 — $15,000 Year
Masters
Bachelor Degree
Online
$1,000—$5,000 Session
English Programs
Online
Summer
Start your U.S. adventure with Study in the USA
What's your dream? We can guide, advise, and connect you with your perfect U.S. school. We can also help you with the application process.
Partner Services
Learn About U.S. education financing, housing, and more
TestDEN's Online TOEFL Test Prep is just what you need to quickly and effectively prepare for the TOEFL test. Since 1998, TestDEN has helped tens of thousands of students raise their TOEFL scores.
BECOME SMARTER IN JUST 5 MINUTES. Get the daily email that makes reading the news actually enjoyable. Stay informed and entertained, for free.
Career Premium Offers Virtual Internships for International Students. You can now apply for a virtual internship and prepare for the global workforce from anywhere in the world. Internships are extremely flexible and run throughout the year, so you c...
Testimonials
Study in the USA has helped me to improve my shortcomings. For example, I'm afraid to express my personal opinion in public. I feel that I have a lot of motivation and encouragement because of Study in the USA.
I was able connect directly with the college.
Study in the USA has helped me understand the American culture and the study abroad program, in a very detailed and well-structured way...
Resources
Learn about American culture and education direct from our experts at Study in the USA. Read more