Fall 2014 American Education Fair in Taiwan!
The Fall 2014 American Education Fair in Taiwan will be held on October 18-19 in Taipei.
This is the 44th American Education Fair, which is organized by the American Education Center in Taipei, in the past 22 years.
Fall 2014 American Education FairTaiwan October 18 & 19, 2014 13:00-17:00 CPC Building Taipei, Taiwan Go
Taiwan
October 18 & 19, 2014
13:00-17:00
CPC Building
Taipei, Taiwan
Go here for complete information on the fair.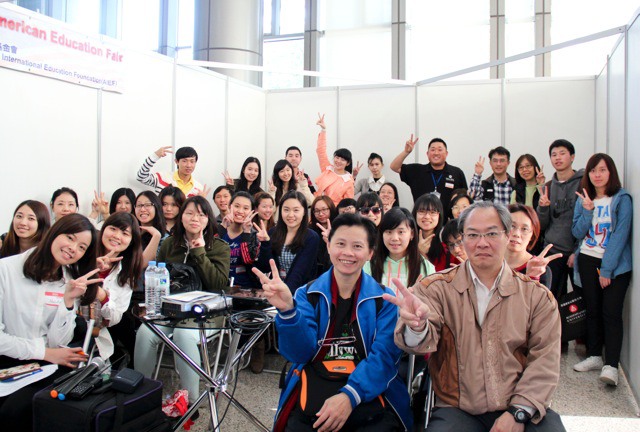 Get matched to the best program for you
Let us know what you're looking for so we can find the best school for you.
$1,000—$5,000 Semester
Bachelor Degree
Certificate/Short Term
Summer
$1,000—$5,000 Quarter
Summer
English Programs
Online
$5,000—$10,000 Semester
English Programs
Certificate/Short Term
Summer
Start your U.S. adventure with Study in the USA
What's your dream? We can guide, advise, and connect you with your perfect U.S. school. We can also help you with the application process.
Partner Services
Learn About U.S. education financing, housing, and more
BECOME SMARTER IN JUST 5 MINUTES. Get the daily email that makes reading the news actually enjoyable. Stay informed and entertained, for free.
MPOWER Financing is the top-rated lender offering international student loans without cosigners, collateral, or credit history for global citizens, PLUS international student scholarships & career coaching! Fully online application, 96% customer...
Prove your English and achieve your goals with the Michigan English Test – widely recognized and available on your own schedule at a test center or from home.
Testimonials
At first, I don't know how to begin and I found StudyUSA.com. I didn't hesitate to mail questions and they replied me very fast… They always ask me about my study. I felt like I have best friend to find school and bring me to study in USA.
Thank youfor helping me find an excellent English program. And to be able to continue with my doctorate.
Brenda Murillo Us Citizen
I found a lot of useful articles on StudyUSA.com, especially under the Student Voices section. I have been recommending the website to my friends back at my home country who are interested in coming to America to study.
Resources
Learn about American culture and education direct from our experts at Study in the USA. Read more