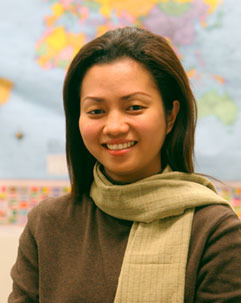 In our effort to bring good content to as many people as possible the text in this blog post has been machine translated so please excuse any mistakes. Thank you!
Pornphrom "Bee" Chalarat from Thailand knew she wanted to earn a high level degree, but realized that her English would have to improve in order to achieve her goals. She is now a candidate for a Masters in Public Administration. Read her interview below to learn more about her experience studying in the U.S.A!
Why did you decide to study in the U.S.A.?
A lot of reading is in English, so I need to improve my English. I chose a masters in Public Administration because I like to help people and I can help more people if I have the MPA.
How did you choose your intensive English program?
The MPA at 
CSU
(
Cleveland State University
) is one of the top ten Urban Affairs schools in the USA. I also have family in Cleveland.
What do you like best?
I like the small classes at the IELP. I made a good relationship with my teachers and could have a lot of attention. I also made a lot of friends with my classmates.
What do you miss most?
I miss my family the most, but I also miss Thai food.
How has your English improved?
When I saw my first writing after one semester, I couldn't believe it. I improved my writing so much. I also understand more about reading because of my writing.
What was your biggest surprise?
I was very surprised by the diversity in American culture and the university. For example in the library, I saw many different people. I could see Asian students and feel, they are like me. I also saw students of many different ages. Some students in the library are 50 or 60 years old, but they want to study, so they are like me, too. I don't feel lonely.
How have you handled language differences?
At first, I couldn't understand anything. So I just listened to improve and understand more. Listening to TV and music helped a lot with grammar, idioms and even, American Culture. Now it's easy for me to understand, even the radio.
What are your activities?
I sometimes go to the gym to play badminton or basketball and met some of the American students. On the weekends, I learned how to use the bus & RTA (train/subway) to learn about
Cleveland
. I also like to try local food.
How easy or difficult is making friends?
At first it was difficult. Now it is easier because I can speak. If you are not shy, you can meet more people. You need to open your mouth and your mind.
How is your U.S. education relevant to your personal goals and to the needs of your country?
The MPA will help me get knowledge to do everything better for my country. Meanwhile, I need to help everyone and everything as much as I can for my country.
What is your advice to other students?
First, know that it is not easy. There are a lot of new things, like living alone, a different language and culture. You have to be strong and confident and use your best ability, so you can solve any problem. Also, positive thinking will help you with everything. * If you attend a university or college listed on StudyUSA.com, we want to hear from you! Leave a comment below.