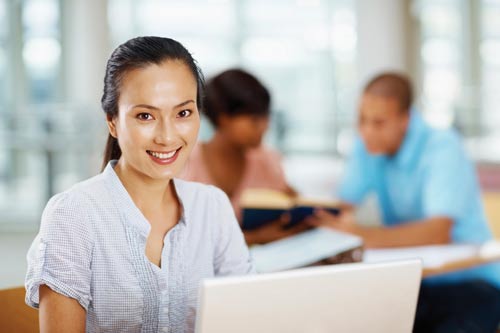 In our effort to bring good content to as many people as possible the text in this blog post has been machine translated so please excuse any mistakes. Thank you!
The TOEFL® Test
Article by Educational Testing Service
Created by ETS, the TOEFL® (Test of English as a Foreign Language) test provides the best measure of your ability to use and understand the English language as it's read, written, heard and spoken.
Who should take the TOEFL test
The TOEFL test is designed for students whose first language is not English and who need to meet English-language proficiency requirements for university applications and admissions.
"Since the TOEFL test is a prerequisite for most universities in the United States and Canada, it was the test for me." India TOEFL Scholarship Winner
How to register
We make it easy for you to register with several options: online, by phone or by mail. Visit www.ets.org/toefl/contact for registration information. You can take the test at in more than 165 countries worldwide.
The TOEFL test can help you go anywhere
You want to get into the best possible school and the TOEFL test can help. 90% of TOEFL test takers get into their first- or second-choice university. Regardless of which university you plan to attend, the TOEFL test can help you demonstrate your readiness for study. In fact, the TOEFL test is the most widely required English-language test for university admissions, and has been taken by over 27 million students worldwide.
The TOEFL test is also the most accepted English-language test, used by more than 9,000 institutions in 130 countries including the top 100 universities in the United States.* That's more than any other English-language test. You can view the list of universities that accept TOEFL scores and register for the test at www.ets.org/toefl/register/susa .
"I decided to take the TOEFL test because it is the most widely accepted English test." Hao-Hsuan Chang, Taiwan, TOEFL Scholarship Winner
"The TOEFL test is a critical component of my application to graduate programs, laying a solid ground for my career prospects." Han Zhang, Hong Kong TOEFL Scholarship Winner
TOEFL Test Fast Facts
Measures all four language skills: Reading, Listening, Speaking and Writing. The entire test is about four hours long. What is most unique about the test is that it asks you to combine, or integrate, more than one language skill, just like you do every day.
Offers more convenience: The TOEFL test is the most convenient English-language test to take, with more testing centers than any other test. You can take the TOEFL test at any of the testing centers in 165 countries around the world, reducing travel time and costs. The entire test is given in one day, so there is no need for you to come back a second day.
Preferred by admissions officers: Four out of five admissions officers surveyed and who stated a preference, prefer to use the TOEFL test.**
Provides the most choices: Your test results are accepted at more than 5,000 institutions in the United States. That's more than any other English-language test.
TOEFL Test Format:
This chart shows the range of questions and the timing for each section.
Learn everything you need to know about the TOEFL iBT® Speaking and Writing sections with our Inside the TOEFL® Test videos. These videos include tips, sample questions, scoring criteria and a sample response. See the videos at www.ets.org/toefl/video_library.
Practice Made Easier
Compared with other English-language tests, the TOEFL test has made practice easier for you — with resources to help you prepare to take the test and study abroad. The best-selling test-prep book, The Official Guide to the TOEFL® Test, includes in-depth information about the test from the people who make the test. And TOEFL® Practice Online gives you the real TOEFL iBT test experience so you can be confident and prepared. Check out www.ets.org/toefl/practice/susa for these resources and more.
Find out more at TOEFLgoanywhere.org
Don't forget to visit our TOEFL page on Facebook® at www.facebook.com/toefl.
TOEFL Test Results
When you register for the test, you can designate which universities you want to receive your scores. Or, you can wait until you receive your scores before sending them to your selected universities.
You can request that a paper score report to be mailed to you by selecting that option before test day.
Your score report gives you scores for each test section (0–30) and a total score (0–120).
It's important to get started soon, because your test date should be at least two to three months before your application deadline. Register NOW at www.ets.org/toefl/register/susa . For more information about the TOEFL test, visit www.ets.org/toefl/susa.
By ETS
* Source: National Universities Ranking, U.S. News and World Report Best Colleges 2011.
**Source: Survey of 263 admissions officers at U.S. universities, of which 212 accept both the TOEFL® test and the IELTS® test and 152 state a preference.
Copyright © 2014 by Educational Testing Service. All rights reserved. ETS, the ETS logo, LISTENING. LEARNING. LEADING., TOEFL and TOEFL iBT are registered trademarks of Educational Testing Service (ETS) in the United States and other countries. All other trademarks are property of their respective owners.