Business English for Career Advancement
Business English for Career Advancement
Like many young people, Lisandra Maioli, from Sao Paolo, Brazil, interviewed for a job with an international company—her dream. Unfortunately, she didn't get the job because her English was not good enough. She needed to improve her English.
English has become a requirement for international people seeking career advancement. Worldwide, employers want to hire workers who can speak English—the international language of business, science, diplomacy, and media.
Students must be able to speak more than conversational English. They must have the specific vocabulary and writing skills for a professional environment.
There are many options in the USA, with short-term English programs offered at both private ESL schools and universities. Lisandra chose Intrax San Francisco, a private English school in California.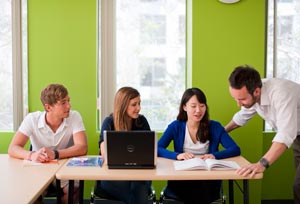 "Intrax's Business English program helped me to improve my English with a specific focus on work-related vocabulary and writing skills," said Maioli, now a student at University of California Berkeley Extension.
These Business English classes teach industry-specific vocabulary, formal and informal business writing, the language of business meetings, presentation delivery, and specialized writing such as press releases, marketing plans and reports. Some schools also offer electives that allow students to spend time at a U.S. company.
Students practice their English in an office environment, learn business etiquette, and interact with Americans.
"I'm now much more confident in my English-speaking abilities and believe that the skills I learned at Intrax will help me to get a better job when I return to Brazil" said Maioli.
Regardless of your career, or what you want to study a short-term English program in the USA can help prepare for your dream university or job.
by Jenefer Johnson Center Director for English Language and Professional Skills at Intrax San Francisco in San Francisco, California.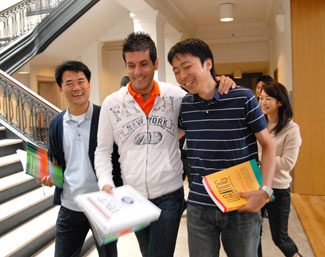 The University of Pennsylvania English Language Programs' International Business Communication Program (IBCP) is designed for international professionals who want to improve the way they communicate in professional situations in English. The IBCP includes instruction in areas such as: social interaction; the language and strategies of meetings and negotiation; written and telephone communication; and presentations.
The program also organizes activities that encourage learning through real-life situations. International students enjoy business receptions with the Philadelphia International Visitors Bureau, lectures from Wharton faculty and going to Phillies Baseball games. Students learn how to use Business English through simulations such as working with a team to develop solutions for a company to determine where to relocate and how to negotiate with the local government.
Penn's intensive English program offers business English electives, such as Issues in Business, Financially Speaking and Communicating about Business. International students are also taught job skills, such as writing resumes and interviewing. Students participate in a simulated business lunch and plan a business trip, complete with budget.

Get matched to the best program for you
Let us know what you're looking for so we can find the best school for you.
$5,000—$10,000 Semester
Certificate/Short Term
Bachelor Degree
2yr/Community College - 2+2 Programs
$10,000 — $15,000 Year
Undergraduate
2yr/Community College - 2+2 Programs
Certificate/Short Term
$1,000—$5,000 Session
English Programs
Online
Summer
Start your U.S. adventure with Study in the USA
What's your dream? We can guide, advise, and connect you with your perfect U.S. school. We can also help you with the application process.
Partner Services
Learn About U.S. education financing, housing, and more
Most U.S. apartments come unfurnished. Make your move easy with a student furniture rental package from CORT. Flexible lease terms. Delivered before you arrive. Starting at $99 per month.* *with a 12-month lease
Study in the USA's advisors can work with you to navigate the requirements to study abroad in the USA, UK, Canada, and Australia. We help you find the right school and apply.
Uniplaces is an accommodation provider with a large choice of verified rooms, entire flats and residences. The platform offers an easy, fast and safe way of booking a place to live. Check out the thousands of properties in the best cities and book a...
Resources
Learn about American culture and education direct from our experts at Study in the USA. Read more