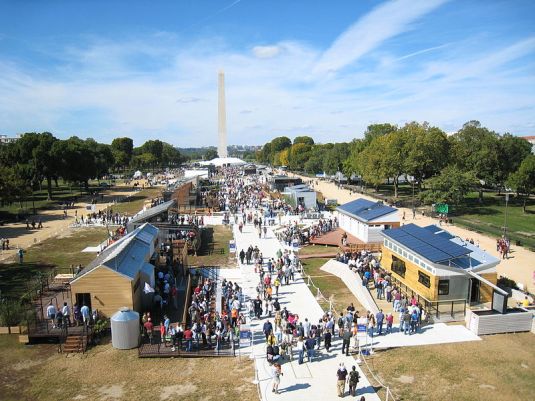 In our effort to bring good content to as many people as possible the text in this blog post has been machine translated so please excuse any mistakes. Thank you!
If young people are the future, then who better to design for the future. For the fifth year, the U.S. State Department of Energy is sponsoring the Solar Decathlon. Twenty international college student teams compete with each other to build solar powered homes. Energy efficiency is only part of the goal. The homes must also be attractive, affordable, and sustainable. Basically, a home for the masses. Solar Decathlon guidelines:
Is affordable, attractive, and easy to live in
Maintains comfortable and healthy indoor environmental conditions
Supplies energy to household appliances for cooking, cleaning, and entertainment
Provides adequate hot water
Produces as much or more energy than it consumes.
[caption id="attachment_426" align="aligncenter" width="535" caption="The 2009 Solar Decathlon at the National Mall. Photo: Richard King, courtesy of Metropolis magazineMetro"]
[/caption] According to the U.S. Department of Energy, the teams spend nearly two years designing and building their homes. [caption id="attachment_427" align="aligncenter" width="375" caption="Penn. State 2009 team home, courtesy of the U.S. Department of Energy"]
[/caption] [caption id="attachment_428" align="aligncenter" width="345" caption="University of Missouri-Columbia 2009 team home, courtesy of the U.S. Department of Energy"]
[/caption] Competing this year...
Appalachian State University
Middlebury College
New Zealand: Victoria University of Wellington
Parsons The New School for Design and Stevens Institute of Technology
Purdue University
The Southern California Institute of Architecture and California Institute of Technology
Team Belgium: Ghent University
Team Canada: University of Calgary
Team China: Tongji University
Team Florida: The University of South Florida, Florida State University, The University of Central Florida, and The University of Florida
Team Massachusetts: Massachusetts College of Art and Design and the University of Massachusetts at Lowell
Team New Jersey: Rutgers - The State University of New Jersey and New Jersey Institute of Technology
Team New York: The City College of New York
Tidewater Virginia: Old Dominion University and Hampton University
To follow the competition, click
here
.