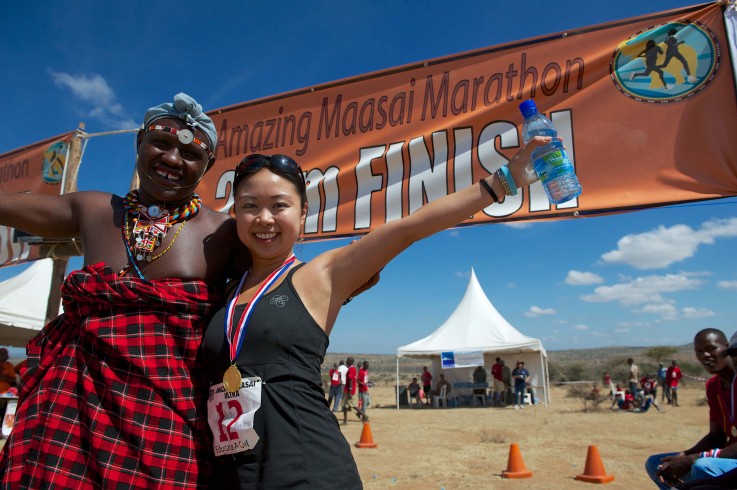 In our effort to bring good content to as many people as possible the text in this blog post has been machine translated so please excuse any mistakes. Thank you!
Photo: The Amazing Maasai Marathon - At the finish line in 2013
On Saturday August 30th, the fourth annual Amazing Maasai Marathon will be held in Kenya, and this year we have figured out a way to unite everyone around the spirit of the race – wherever you are in the world.
Donate Your Run
This August, 30th, we ask that you donate your Saturday run/walk to the Amazing Girls.
Wherever you are, lace up your running shoes and hit the road! In conjunction with the Marathon in Kenya, we will come together in spirit that day, to show that we are all proud to be keeping our 38 Girls (and more girls in the future!) safe and learning, in school.
The Amazing Maasai Girls Project is a US registered 501(c)(3) non-profit organization founded with the mission of providing secondary school scholarships to Maasai girls in rural Kenya. The AMGP was established in 2010 by a small group of running friends who believe in the importance of keeping girls in school and out of childhood marriage. Since then, we have raised more than $100,000 thru running-related events and fundraisers and currently sponsors 38 Amazing Girls through four years of high school education. Every year the AMGP holds the
Amazing Maasai Marathon
in Kenya as fundraiser for our scholarship program, as well as other events closer to home, such as the Amazing Maasai Global Run Karibu!