Wentworth Institute of Technology student Xujie Zhao
Xujie Zhao from China: Studying Computer Networking at Wentworth Institute of Technology in Boston
An interview with Xujie Zhao, from China, a sophomore majoring in Computer Networking at Wentworth Institute of Technology in Boston.
Why did you decide to study in the USA?
The United States has more opportunities for me to enhance my life. American teenagers are more independent. I wanted to be independent as well; therefore, I started doing everything myself.
Why did you choose your intensive English program?
Schools in the U.S. focus on both oral English and writing, which really improved my English skills. At Wentworth, English classes are more fun. The most impressive section is presentation. I had never done any presentation in China. In the United States, I have gotten a lot of chances to express my feelings and research the topics I am interested in.
What do you like best?
I like that schedules are flexible, classes are fun, and the variety of activities I can participate in. My major is computer networking; we have to do some networking and programming projects in groups. Working in groups not only helps me to improve my communication skills, but we can always integrate the best ideas and come up with the best project report.
What do you miss most?
I miss my family and friends in China.
How has this program helped you to handle future study at a U.S. university?
I have been studying here for two years so far. My English has improved significantly by attending a English school in the U.S. This really helps me to understand the classes and social communication.
What was your biggest surprise?
People are helpful, especially for international students like me.
How have you handled:
... finances?
My family has to pay the full tuition since international students are not eligible to work in the U.S. However, international students can apply for jobs on campus. The small amount of money you earn on campus is enough for daily expenses.
... adjusting to a different educational system?
The American educational system is the best. American schools have greater reputations, better student services, academic programs, and top class professors. Even if the question I ask is simple, professors appreciate any question and answer them in a professional way.
What are your activities?
I am a member of the Multicultural Students Association at Wentworth. I have gotten involved in a few soccer and basketball leagues in the Colleges of the Fenway.
How easy or difficult is making friends?
Once you are comfortable in speaking English, you will be confident to talk to American people and make a lot of friends.
How is your U.S. education relevant to your personal goals and to the needs of your country?
My career goal is to be a network and system administrator. Wentworth provides a lot of enhanced networking, as well as networking clubs and activities for students to get involved. If I get some working experiences in the U.S., it will help me to achieve my further goal.
What is your advice to other students?
Do not worry about the English issue. English is just a language, it is all about practice. Be bold and speak English to people. Try your best to get a high GPA. Chinese students do not have work experience when they are in high school, while American students start working when they are in school. Therefore, when you apply for co-op or jobs in the future, a high GPA really helps you to make up the disadvantage.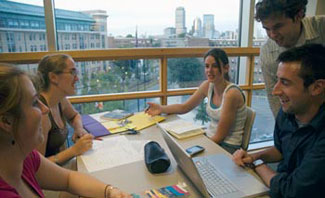 Get matched to the best program for you
Let us know what you're looking for so we can find the best school for you.
$5,000—$10,000 Semester
Certificate/Short Term
Summer
Secondary/Boarding
$30,000—$35,000 Year
English Programs
Masters
Certificate/Short Term
Start your U.S. adventure with Study in the USA
What's your dream? We can guide, advise, and connect you with your perfect U.S. school. We can also help you with the application process.
Partner Services
Learn About U.S. education financing, housing, and more
Follow your dreams with the TOEFL iBT® test, which has helped millions of students study abroad.
Join over 6 million people and businesses who get a better deal when they send money with the real exchange rate.
Ready to make your MBA dreams a reality? Register now for a virtual or in-person event with The MBA Tour! Don't miss your chance to speak directly with leading business schools, such as Harvard University, Boston University, Columbia University, UC...
Testimonials
Study in the USA provides me with information about new colleges. My plan is to transfer, so it gives me more options for choosing my next college.
I applied to UNT (University of North Texas). I got in and I'm set to start my second semester now in January 2019. Thanks for all your help!
Inger Mariama Marong Norway
It cleared many questions that I had prior and during my time here in the United States. The website was very helpful and detailed for things that we have no idea about and have to learn as we go.
Resources
Learn about American culture and education direct from our experts at Study in the USA. Read more