In our effort to bring good content to as many people as possible the text in this blog post has been machine translated so please excuse any mistakes. Thank you!
Le Bao Khanh Mai tarafından
Hayat bir maceradır ve üniversiteye gitmek birçok insan için, özellikle de uluslararası öğrenciler için en heyecan verici ama yorucu deneyimlerden biridir. Amerika'ya ilk geldiğimde, yolu doğru bir şekilde nasıl geçeceğimi bile bilmiyordum! Bir yıl çalıştıktan ve adapte olduktan sonra, Amerikan hayatına daha kolay katılmanıza yardımcı olabilecek paylaşımım burada.
Kişisel kimliği yönetmek
Herhangi bir yeni ülkeye gitmeden önce, belgelerinizin tüm kopyalarını getirdiğinizden emin olun. Bu belgeler, gelişiniz için gerekli kayıtlardır ve sizi güvende ve yasal olarak yeni bir ülkede tutar. İlk başta, F-1 vizesi, I-20, I-94, pasaport vb. Gibi çok sayıda belgeyle boğulmuştum. Tüm politikaları ve kullanımlarını anlamak için okul danışmanımla çalışmam gerekiyor. Ayrıca, katılımım için çok sayıda kağıt okumalı ve imzalamalıyım. Tüm evrak işlerinizi tek bir yerde tutabilecek ayrı bir çalışma kağıdına sahip olmanızı şiddetle tavsiye ederim. Gelecekte nereye götüreceğinizi bilmeniz için her kategoriyi işaretlemek için yapışkanlı notları veya sekmeleri kullanmayı deneyin.
Banka hesabı / ehliyet / SSN açma
Yeni bir yere geldiğinizde banka hesabınızın olması şarttır. Farklı ülkelerin kendi para birimi sistemleri olduğundan, paranızı o ülkede herhangi bir ödeme için yasal olarak kullanabileceğinizden emin olmalısınız. Normalde oryantasyonda birçok üniversite yerel bankalarla bağlantı kurmuştur ve bu da hesabınızı açmanıza yardımcı olabilir. Harcınızı ve yaşamınız için gerekli diğer eşyaları ödemeniz gerektiği için hızlı yapın.
İlk iki hafta, DMV (Motorlu Taşıtlar Dairesi) sürüş testine hazırlanmaya çalışın. ABD'deki her eyaletin web sitesinde yazılı sınav için bilmeniz gereken her şeyi içeren bir el kitabı vardır. Buna bir göz atmalı ve bazı çevrimiçi alıştırma testleri yapmalısınız. Arabanız olmasa bile, kampüste veya ABD'nin herhangi bir yerinde işiniz olduğunda bir SSN (sosyal güvenlik numarası) almanıza yardımcı olacak bir "öğrenci izni" kartı veya "sürücü belgesi" kartı alabilirsiniz.
İngilizce Pratik Yapmak
İngilizce pratik yapmayı asla bırakmayın. Çoğu uluslararası öğrenci için İngilizce ana dili değildir. İlk haftalarda yabancılarla günlük sohbetlerinde mücadele edecekler. Yanlış anlaşılmalardan veya garip konuşmalardan kaçınmak için İngilizce iletişim becerilerinizi her gün geliştirmelisiniz. Amerikan TV şovlarını izleyebilir, yeni kelimeler duyarak öğrenebilir ve yerli insanlarla konuşmaya çalışabilirsiniz. İlk başta utanmış veya stresli hissedeceksiniz, ancak aylarca konuştuktan sonra daha akıcı konuşacak ve daha net dinleyeceksiniz. Hedefinizi herkesin konuşmanızı anlayabileceği ve siz de başkalarını anlayabileceğiniz şekilde belirlemek. İletişim, günlük hayatta kaçınılmaz bir faaliyettir, bu nedenle doğru şekilde iletişim kurabildiğinizden emin olun. Sorunsuz bir şekilde konuşmakta zorlanıyorsanız, arkadaşlarınızdan yardım isteyebilir veya hatta bir ESL sınıfına kaydolabilirsiniz. Dirençli olun çünkü "pratik yapmak mükemmelleştirir".
Ağ oluşturma
Yeni bir ortama ilk geldiğinizde kendinizi yalnız hissedecek ve vatan hasreti çekeceksiniz. Yalnızlığı azaltmak için açık fikirli ve sosyal olarak daha aktif olmalısınız. Yeni arkadaşlarla tanışmak bu sorunu çözecektir. Ancak, yalnızca kendi ülkenizden arkadaş edinerek kendinizi sınırlamayın, diğer uluslararası yeni başlayanlarla takılmaya çalışın. Amerikan yaşam tarzına uyum sağlamanın ve yeni bir kültür öğrenmenin en etkili yollarından biri, olabildiğince çok Amerikalı arkadaşa sahip olmaktır. Sadece mevcut aksanınızı geliştirmekle kalmayacak, aynı zamanda farklı gelenekler hakkındaki zihniyetinizi de yerine getireceksiniz. Ayrıca, bazı insan grupları hakkındaki önyargılarınızdan veya stereotiplerinizden bazılarını düzeltebilirsiniz. Son olarak, sosyal ilişkilerinizden gönüllü bir pozisyon veya yararlı bir iş pozisyonu bulabilirsiniz, bu yüzden bu avantajı kullanmaya çalışın.
Kariyerinizi planlamak
Üniversite pahalıdır. Herhangi bir üniversiteye gitmeden önce, kariyer yolunuz için sağlam bir planınız olduğundan emin olun. Uluslararası bir öğrenci olarak, yerel öğrencilerden daha fazlasını ödemeniz gerekir, bu nedenle akademik yolunuzu dikkatlice planlayın. Ebeveynlerinizden, tanıdıklarınızdan veya ilgilendiğiniz insanlardan bazı tavsiyeler alabilirsiniz. Seçtiğiniz ana dalın canlı bir görüntüsünü görmenizi sağlarlar. Okulda, kurslarınız ve atölye etkinlikleriniz hakkında en son güncellemeleri almak için akademik danışmanınızı aylık olarak görmelisiniz. Üniversitede geçirdiğiniz zaman esas olarak kararınıza bağlıdır. Daima doğru yolda olup olmadığınızı kontrol edin. Genel olarak, her zaman ilgilendiğiniz alanda topluma hizmet etme fırsatlarını araştırın. ABD'de, ilgili çalışmalarınızdan deneyim kazanmak ve bilgilerinizi başkalarına yardımcı olmak için yaymak çok önemlidir. Öğrendikleriniz konusunda tutkulu bir tavır sergilediğinizi gösterir.
---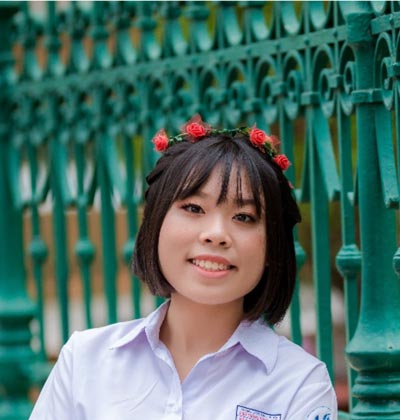 Viet Nam'dan Le Bao Khanh Mai, Florida'dakiHillsborough Community College'da biyomedikal bilimi okuyan uluslararası bir öğrencidir. Jogging yapmayı ve film izlemeyi seviyor.