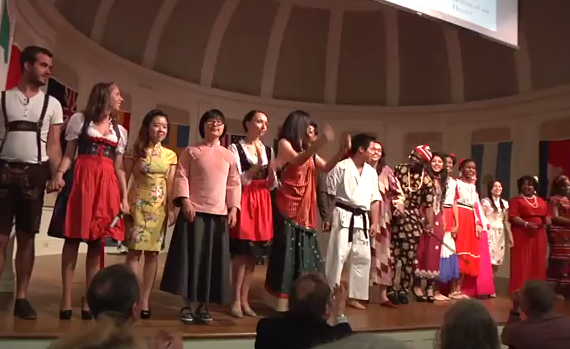 In our effort to bring good content to as many people as possible the text in this blog post has been machine translated so please excuse any mistakes. Thank you!
Photo: Georgia College international students onstage at the 29th International Dinner
This just in from Georgia College International Admissions Counselor Jason Wynn:
At the recent Georgia College 29th International Dinner, student Sooyoung "Chris" Lee, from South Korea, cooked his favorite Korean barbecue dish, bulgogi.
Photo: Sooyoung "Chris" Lee serving his homemade bulgogi dish at the International Dinner
Bulgogi is a beef entrée that is reserved for special events. In the film, we watch Chris as he cooks the dish with the finesse of a master chef. He then serves the bulgogi alongside other students who share dishes from around the world. When asked where he prefers to cook traditional food, Chris had this to say, "home is much better." The International Dinner also featured international music, dance and martial arts performances, and students wearing traditional dress from their native countries, allowing each individual to share their unique cultural backgrounds with one another.
Emil Hellerud, an exchange student from Sweden, shot and produced this cool video.