International Student Recipients of the 2014 SUNY Chancellor's Award!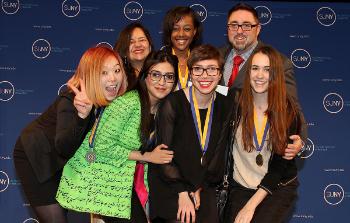 Congratulations to the international students who were awarded the Chancellor's Award for Student Excellence from the State University of New York!
2014 International Student Recipients:
Gabriela Hernandez Caprini - San Jose Villanueva, Spain
Benjamin Nicholson - London, England
Timea Kernacova - Spisska Nova Ves, Slovakia
Vihan Wickramasinghe - Abu Dhabi, United Arab Emirates
Martin Zorrilla - Santa Rosa, Ecuador
Evelyn Fok - Hong Kong, China
Yoshinori Tsuji - Toyonaka-shi Osaka-fu, Japan
Monike Bartley-Williams - Surrey, United Kingdom
Hyuna Na - Gwangju-si, Korea
Yuki Sasao - Fukuoka, Japan
Epril Nossent - Tromso, Norway
Mifuyu Otsuka - Tokyo, Japan
Larissa Assam - Cameroon, Africa
Komala Kotramada Bheemaiah - Karnataka, India
Hyun Ho Lee - Buenos Aires, Argentina
Hei Tsun Tse - Hong Kong, China
The Chancellor's Award for Student Excellence honors students who have best demonstrated and been recognized for their integration of academic excellence with other aspects of their lives, which may include leadership, campus involvement, athletics, career achievement, community service or creative and performing arts.
See the full 2014 SUNY Chancellor's Award recipients list.
Information on: