In our effort to bring good content to as many people as possible the text in this blog post has been machine translated so please excuse any mistakes. Thank you!
Por Rachel Gelabale
Saudações a todos, meu nome é Rachel Gelabale. Sou um estudante internacional do Caribe, atualmente cursando o Genesee Community College (GCC) no interior do estado de Nova York e me especializando em justiça criminal. Qual ilha, você pode perguntar? Bem, eu sou de duas das ilhas mais bonitas do Caribe. Eu sou originalmente de uma ilha chamada St. Maarten. Posteriormente, mudei-me para a ilha de Curaçao com a idade de 9/10. Além disso, sou um jovem de dezenove anos que adora cantar, comer e, acima de tudo, adoro cozinhar. Com este sendo meu primeiro blog no StudyUSA.com, escreverei sobre como descobri sobre a faculdade que estou cursando atualmente, Genesee Community College, e por que escolhi cursar essa faculdade.
Terminei o ensino médio com dezessete anos e decidi tirar um ano sabático. Um ano sabático é quando um aluno faz uma pausa que normalmente dura um ano acadêmico entre o ensino médio e o ensino superior. Alguns alunos tiram um ano sabático para viajar, trabalhar ou por motivos espirituais. Fiz meu ano sabático porque tinha dezessete anos e não tinha pressa de ir para a faculdade. Também tirei um ano sabático para poder trabalhar e economizar dinheiro. Durante esse tempo, encontrei Genesee Community College online e coloquei-o na minha lista muito curta de faculdades.
Há uma feira universitária que acontece todos os anos em Curaçao, onde faculdades e universidades de todas as partes do mundo estão representadas para que futuros alunos possam vir e falar com os representantes das diferentes escolas. Eu descobri que o Genesee Community College teria um estande lá, então decidi participar. Quando cheguei ao estande, fui recebido por um dos porta-vozes dos alunos internacionais do GCC. Ela me deu informações sobre a escola e muito mais. Genesee Community College é uma faculdade pública localizada em Batavia, Nova York. Batavia fica a aproximadamente cinco a seis horas de distância da cidade de Nova York e a duas horas da fronteira com o Canadá. O custo para frequentar o GCC era relativamente menor do que o das outras escolas que eu havia examinado. Para alguém que tem empréstimos estudantis, ele se encaixa perfeitamente com o valor dos meus gastos. Ela também falou sobre o tipo de alunos e professores que eles têm. O GCC tem uma grande população de estudantes internacionais. Ele varia de estudantes do Caribe a pessoas do Japão, Alemanha, Inglaterra e muito mais.
Após minha conversa com o representante, decidi que o GCC era para onde eu estava indo. No que diz respeito aos preparativos, as coisas correram muito bem. Sempre que eu precisava de ajuda ou de um determinado documento do GCC, tudo o que precisava fazer era ligar para a escola ou enviar pelo correio. Não estou dizendo isso só porque estou aqui, mas sério, cada pessoa com quem falei no telefone ou via e-mail foi de grande ajuda. Por me tratarem com respeito e paciência com as toneladas de perguntas que fiz, percebi que escolhi a faculdade certa.

Concluindo, aos dezoito anos decidi dar um salto de fé e me mudar para longe de casa. Ainda não me arrependo de minha decisão. Escolhi o Genesee Community College pelo preço do curso, pela localização, sendo em Nova York a poucas horas de distância das Cataratas do Niágara e do Canadá, e por último pelos modos que me foram mostrados durante o tempo que me preparava para vir.
---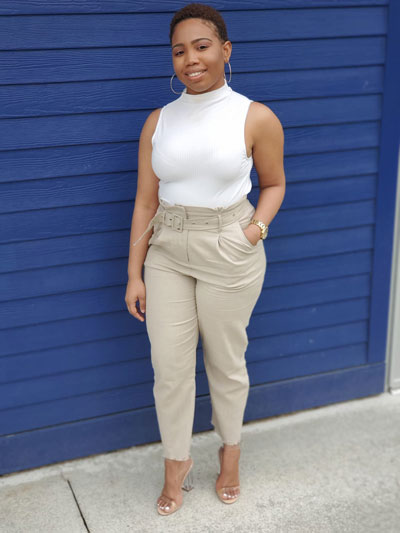 Rachel Gelabale, de Curaçao, está estudando no Genesee Community College em Batavia, Nova York.