In our effort to bring good content to as many people as possible the text in this blog post has been machine translated so please excuse any mistakes. Thank you!
Par Rachel Gelabale
Salutations à tous, je m'appelle Rachel Gelabale. Je suis un étudiant international des Caraïbes, qui fréquente actuellement le Genesee Community College (GCC) dans le nord de l'État de New York et me spécialise en justice pénale. Quelle île, pourriez-vous demander? Eh bien, je viens de deux des plus belles îles des Caraïbes. Je suis originaire d'une île appelée St. Maarten. J'ai ensuite déménagé sur l'île de Curaçao à l'âge de 9/10 ans. De plus, je suis un jeune de dix-neuf ans qui adore chanter, manger et surtout, j'aime cuisiner. Ceci étant mon premier blog sur StudyUSA.com, j'écrirai sur la façon dont j'ai découvert l'université que je fréquente actuellement, Genesee Community College, et pourquoi j'ai choisi de fréquenter cette université.
J'ai terminé mes études secondaires à l'âge de 17 ans et j'ai décidé de faire une année sabbatique. Une année sabbatique, c'est quand un étudiant prend une pause qui dure généralement une année académique entre l'école secondaire et l'enseignement supérieur. Certains étudiants prennent une année sabbatique pour voyager, travailler ou pour des raisons spirituelles. J'ai pris mon année sabbatique parce que j'avais dix-sept ans et que je n'étais pas pressé d'aller à l'université. J'ai également pris une année sabbatique pour pouvoir travailler et économiser de l'argent. Pendant ce temps, j'ai trouvé Genesee Community College en ligne et je l'ai placé sur ma très courte liste de collèges.
Il y a une foire universitaire qui a lieu chaque année à Curaçao, où les collèges et universités de toutes les régions du monde sont représentés afin que les futurs étudiants puissent venir parler aux représentants des différentes écoles. J'ai découvert que le Genesee Community College aurait un stand là-bas, alors j'ai décidé d'y assister. Quand je suis arrivé au stand, j'ai été accueilli par l'un des porte-parole des étudiants internationaux de GCC. Elle m'a donné des informations sur l'école et bien plus encore. Genesee Community College est un collège public situé à Batavia, New York. Batavia est à environ cinq à six heures de route de New York et à deux heures de la frontière canadienne. Le coût pour assister à GCC était relativement inférieur à celui des autres écoles que j'avais examinées. Pour quelqu'un qui a des prêts étudiants, cela correspond parfaitement au montant de mes dépenses. Elle a également parlé du type d'étudiants et de professeurs dont ils disposent. GCC a une importante population étudiante internationale. Cela va des étudiants des Caraïbes aux personnes du Japon, d'Allemagne, d'Angleterre et bien plus encore.
Après ma conversation avec le représentant, j'ai décidé que GCC était l'endroit où j'allais. En ce qui concerne les préparatifs, les choses se sont très bien déroulées. Chaque fois que j'avais besoin d'aide ou d'un certain document de GCC, tout ce que j'avais à faire était d'appeler l'école ou de leur envoyer un courrier. Je ne dis pas cela simplement parce que je vais ici, mais sérieusement, chaque personne à qui j'ai parlé au téléphone ou par e-mail a été d'une grande aide. En me traitant simplement avec respect et en ayant de la patience pour les tonnes de questions que j'avais posées, je savais que j'avais choisi le bon collège.

En conclusion, à l'âge de dix-huit ans, j'ai décidé de faire un acte de foi et de m'éloigner de chez moi. Je n'ai pas encore regretté ma décision. J'ai choisi Genesee Community College en raison du prix des frais de scolarité, de l'emplacement, du fait d'être à New York à seulement quelques heures de Niagara Falls et du Canada, et enfin en raison des manières qui m'ont été montrées pendant la période où je me préparais à venir.
---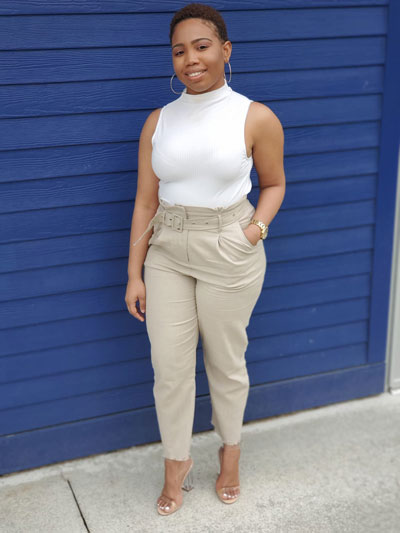 Rachel Gelabale de Curaçao étudie au Genesee Community College à Batavia, New York.