In our effort to bring good content to as many people as possible the text in this blog post has been machine translated so please excuse any mistakes. Thank you!
Por Rachel Gelabale
Saludos a todos, mi nombre es Rachel Gelabale. Soy un estudiante internacional del Caribe, actualmente asisto al Genesee Community College (GCC) en el norte del estado de Nueva York y me especializo en justicia penal. ¿Qué isla, podrías preguntar? Bueno, soy de dos de las islas más bellas del Caribe. Soy originario de una isla llamada St. Maarten. Más tarde me mudé a la isla de Curazao a la edad de 9/10. Además, soy un joven de diecinueve años al que le encanta cantar, comer y, sobre todo, me encanta cocinar. Siendo este mi primer blog en StudyUSA.com, escribiré sobre cómo me enteré de la universidad a la que asisto actualmente, Genesee Community College, y por qué elegí asistir a esta universidad.
Terminé la escuela secundaria a la edad de diecisiete años y decidí tomarme un año sabático. Un año sabático es cuando un estudiante toma un descanso que generalmente dura un año académico entre la escuela secundaria y la educación superior. Algunos estudiantes toman un año sabático para viajar, trabajar o por razones espirituales. Tomé mi año sabático porque tenía diecisiete años y no tenía prisa por asistir a la universidad. También me tomé un año sabático para poder trabajar y ahorrar dinero. Durante este tiempo, encontré Genesee Community College en línea y lo coloqué en mi lista muy corta de universidades.
Hay una feria universitaria que se lleva a cabo todos los años en Curazao, donde están representados colegios y universidades de todas partes del mundo para que los futuros estudiantes puedan venir y hablar con los representantes de las diferentes escuelas. Descubrí que Genesee Community College tendría un puesto allí, así que decidí asistir. Cuando llegué al stand, fui recibido por uno de los portavoces de los estudiantes internacionales de GCC. Ella me dio información sobre la escuela y mucho más. Genesee Community College es una universidad pública ubicada en Batavia, Nueva York. Batavia está aproximadamente a cinco o seis horas de la ciudad de Nueva York y a dos horas de la frontera de Canadá. El costo de asistir a GCC fue relativamente más bajo que en las otras escuelas que había visto. Para alguien que tiene préstamos para estudiantes, encaja perfectamente con el monto de mis gastos. También habló sobre el tipo de estudiantes y profesores que tienen. GCC tiene una gran población de estudiantes internacionales. Abarca desde estudiantes del Caribe hasta personas de Japón, Alemania, Inglaterra y mucho más.
Después de mi conversación con el representante, decidí que GCC era donde me dirigía. En lo que respecta a los preparativos, todo fue muy bien. Siempre que necesitaba ayuda o necesitaba un determinado documento de GCC, todo lo que tenía que hacer era llamar a la escuela o enviarlos por correo. No solo digo esto porque voy aquí, sino que, en serio, todas las personas con las que hablé por teléfono o por correo electrónico fueron de gran ayuda. Al tratarme con respeto y tener paciencia con las toneladas de preguntas que había hecho, me hizo saber que elegí la universidad correcta.

En conclusión, a los dieciocho años decidí dar un salto de fe y mudarme lejos de casa. Todavía tengo que lamentar mi decisión. Elegí Genesee Community College por el precio de la matrícula, la ubicación, estar en Nueva York a solo unas horas de las Cataratas del Niágara y Canadá y, por último, por los modales que me mostraron durante el tiempo que me estaba preparando para venir.
---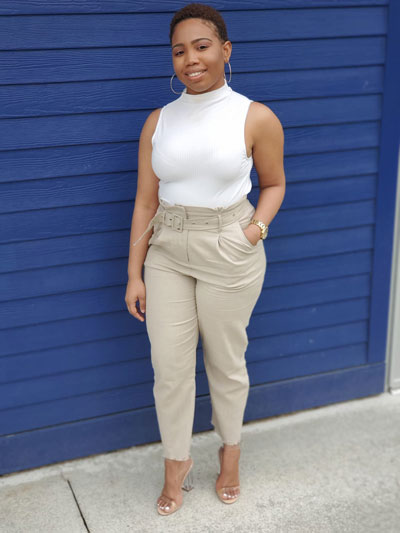 Rachel Gelabale de Curazao asiste a Genesee Community College en Batavia, Nueva York.