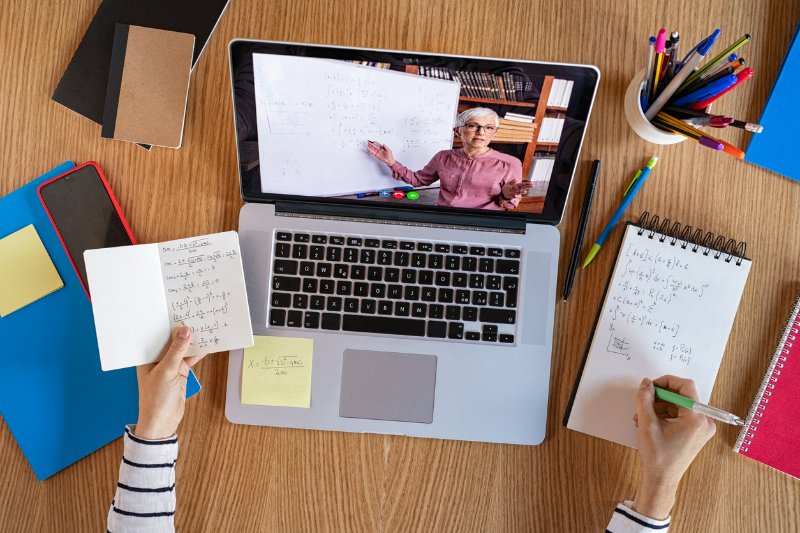 In our effort to bring good content to as many people as possible the text in this blog post has been machine translated so please excuse any mistakes. Thank you!
Sudah 3 minggu sejak semester musim gugur dimulai, dan rasanya seperti 3 bulan telah berlalu! Saya tidak pernah menyangka bahwa semester terakhir saya sebelum lulus TMCC akan sepenuhnya online! Saya sangat menantikan untuk bekerja di lab, belajar dengan teman-teman saya di perpustakaan dan berinteraksi di ruang kelas dengan profesor saya yang luar biasa. Menyesuaikan dengan musim ketidakpastian dan sesi Zoom yang tak ada habisnya ini adalah bagian dari proses, dan sejujurnya, ini menantang dan melelahkan. Namun, saya telah belajar banyak tentang cara belajar baru ini dan apa yang tampaknya berhasil bagi saya di lingkungan baru ini, atau setidaknya itulah yang saya pikirkan sejauh ini!
Sebagai mahasiswa teknik, setiap semester kelas saya difokuskan pada matematika, sains terapan, dan pemecahan masalah. Mungkin bagi Anda, kelas Anda lebih banyak tentang diskusi dan proyek kelompok, membuat strategi pemasaran baru, atau model bisnis. Tidak peduli apa bidang studi Anda, kita semua dapat setuju bahwa organisasi dan manajemen waktu adalah kuncinya. Ini adalah keterampilan yang diperjuangkan oleh banyak mahasiswa baru (tentu saja saya melakukannya!), Namun itu adalah dasar kesuksesan perguruan tinggi Anda. Yang paling berhasil bagi saya adalah menggunakan Google Kalender. Saya memiliki dua kalender: kalender Kerja / Kelas dan kalender Tugas / Ujian saya. Saya dapat melihatnya secara bersamaan atau terpisah dalam aplikasi atau di laptop saya, dan saya memiliki representasi visual tentang seperti apa minggu saya nantinya. Tip lain yang sangat berguna yang saya pelajari dari seorang Ph.D. siswa harus menetapkan blok waktu di awal minggu untuk tugas-tugas yang akan membutuhkan upaya paling banyak. Bagilah tugas besar menjadi beban kerja yang lebih kecil, dan Anda akan dapat menyelesaikannya sepanjang minggu dengan lebih mudah.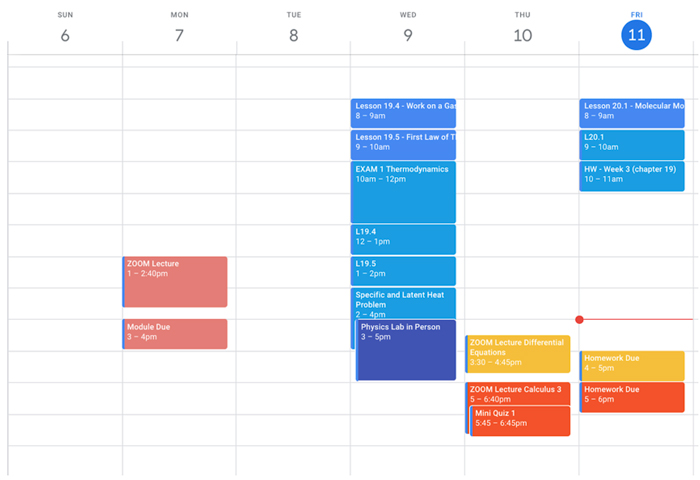 Kalender Google saya
Menggunakan sumber daya kampus Anda sangatlah penting! Di TMCC pusat bimbingan dan perpustakaan terbuka untuk janji temu dan membantu pekerjaan rumah. Ini bermanfaat bagi banyak siswa yang kesulitan dengan pembelajaran online dan lebih memilih bantuan tatap muka untuk mata pelajaran seperti matematika dan fisika.
Secara pribadi, perlu beberapa kali meninjau konsep yang sama untuk benar-benar memahami apa yang saya pelajari. Khan Academy telah menjadi alat luar biasa yang telah saya gunakan sejak sebelum datang ke AS (ini membantu saya mempersiapkan SAT!). Memiliki akses ke berbagai perspektif dan cara memecahkan masalah pada satu topik sangat membantu, dan Anda dapat menemukan banyak sumber daya secara online. Juga, jika Anda kesulitan dengan pelajaran Anda dan cara kelas diajarkan, jangan ragu untuk menghubungi instruktur Anda dan meminta bantuan!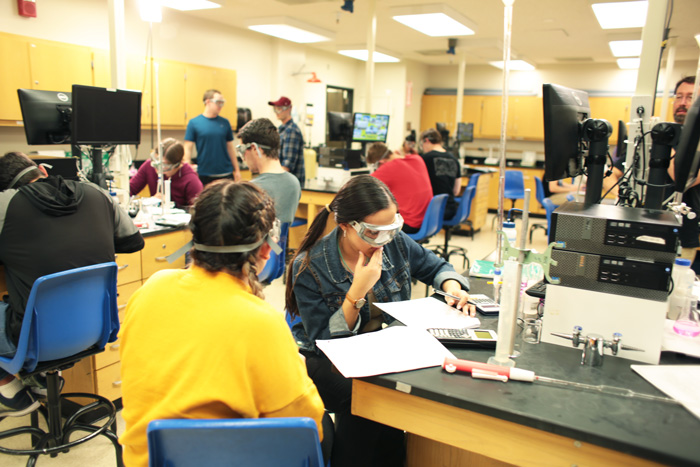 Saya, di laboratorium TMCC pra-pandemi.
Meskipun situasi ini bersifat sementara dan mudah-mudahan kita akan kembali ke "normal baru", kemampuan untuk menyesuaikan diri dengan perubahan ini telah membantu kita semua menjadi lebih menghargai hal-hal sederhana seperti duduk di kelas, berinteraksi dengan orang, dan bekerja berjam-jam di lab.
---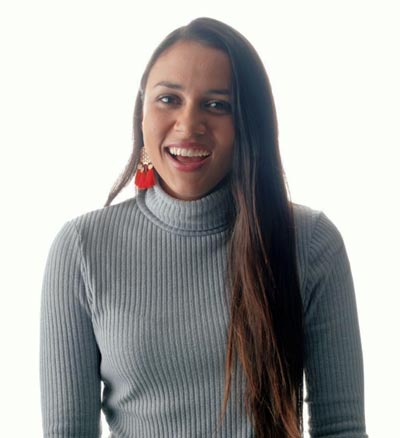 Valeria Saborio berasal dari Kosta Rika dan sedang mengejar gelar Teknik Industri dan Sistem di Truckee Meadows Community College di Reno, Nevada.