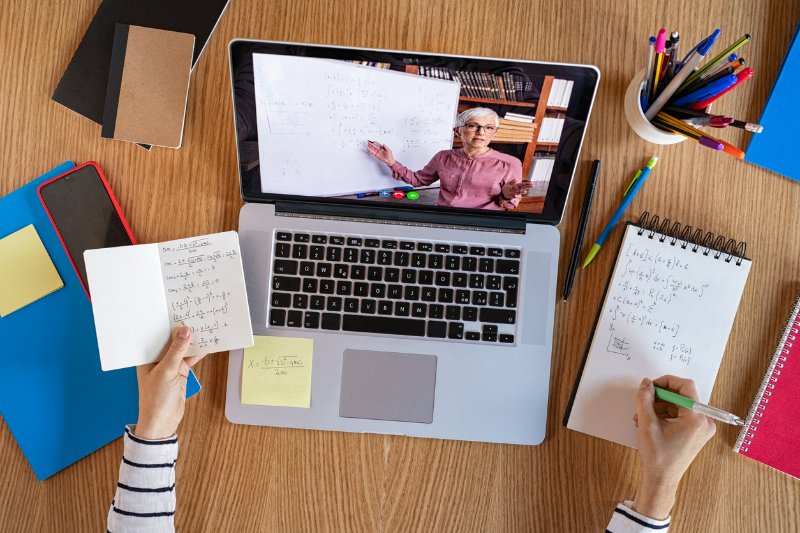 In our effort to bring good content to as many people as possible the text in this blog post has been machine translated so please excuse any mistakes. Thank you!
Han pasado 3 semanas desde que comenzó el semestre de otoño, ¡y parece que han pasado 3 meses! ¡Nunca hubiera pensado que mi último semestre antes de graduarme de TMCC estaría completamente en línea! Tenía muchas ganas de trabajar en el laboratorio, estudiar con mis amigos en la biblioteca e interactuar en un salón de clases con mis increíbles profesores. Adaptarse a esta temporada de incertidumbre e interminables sesiones de Zoom es parte del proceso y, sinceramente, ha sido desafiante y agotador. Sin embargo, he aprendido mucho sobre esta nueva forma de aprender y lo que parece estar funcionando para mí en este nuevo entorno, ¡o al menos eso es lo que pienso hasta ahora!
Como estudiante de ingeniería, cada semestre mis clases se enfocan en matemáticas, ciencias aplicadas y resolución de problemas. Tal vez para usted, sus clases sean más sobre discusiones y proyectos grupales, creando nuevas estrategias de marketing o modelos comerciales. No importa cuál sea su campo de estudio, todos estamos de acuerdo en que la organización y la gestión del tiempo es clave. Esta es una habilidad con la que luchan muchos estudiantes universitarios entrantes (¡ciertamente yo lo hice!) Y, sin embargo, es la base de su éxito universitario. Lo que más me ha funcionado es usar Google Calendar. Tengo dos calendarios: el calendario de Trabajo / Clases y mi calendario de Asignaciones / Exámenes. Puedo verlos simultáneamente o por separado dentro de la aplicación o en mi computadora portátil, y tengo una representación visual de cómo será mi semana. Otro consejo muy útil que aprendí de un doctorado en economía. El estudiante debe establecer bloques de tiempo al comienzo de la semana para aquellas tareas que requieran el mayor esfuerzo. Divida una tarea grande en cargas de trabajo más pequeñas y podrá realizarla a lo largo de la semana mucho más fácilmente.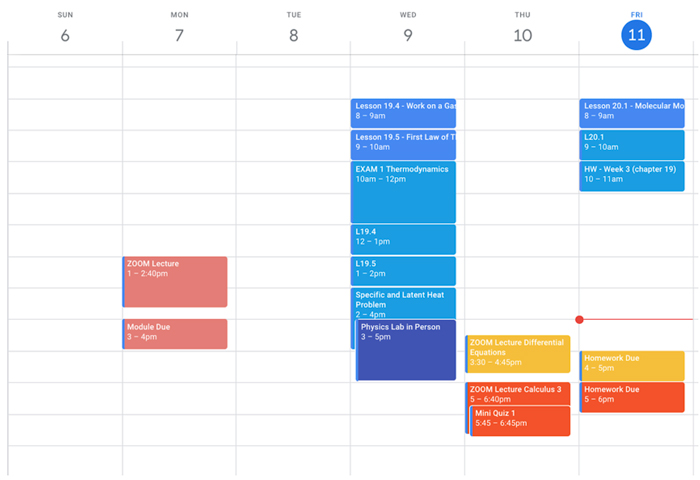 Mi calendario de Google
¡Usar los recursos de su campus es extremadamente importante! En TMCC, el centro de tutoría y la biblioteca están abiertos para citas y ayuda con la tarea. Esto es beneficioso para muchos estudiantes que luchan con el aprendizaje en línea y prefieren la asistencia en persona para materias como matemáticas y física.
Personalmente, es necesario repasar varias veces el mismo concepto para comprender realmente lo que estoy aprendiendo. Khan Academy ha sido una herramienta increíble que he usado desde antes de venir a los Estados Unidos (¡me ayudó a prepararme para el SAT!). Tener acceso a diferentes perspectivas y formas de resolver problemas sobre un tema es muy útil, y puede encontrar muchos recursos en línea. Además, si tiene dificultades con sus conferencias y la forma en que se imparte la clase, no dude en comunicarse con sus instructores y pedir ayuda.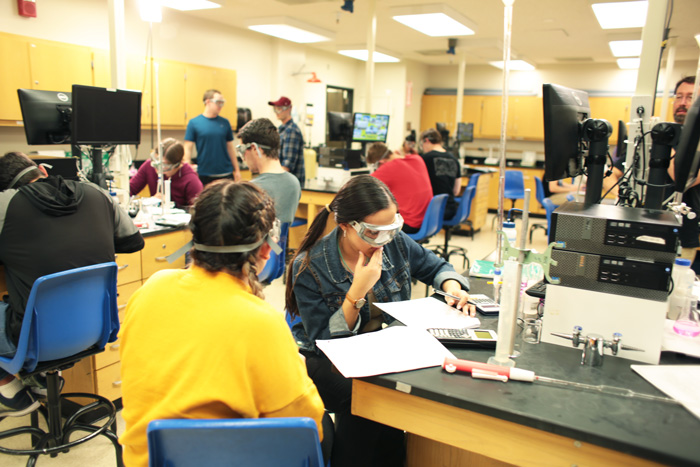 Yo, en el laboratorio de TMCC antes de la pandemia.
Aunque esta situación es temporal y, con suerte, volveremos a una "nueva normalidad", poder ajustarnos a estos cambios nos ha ayudado a todos a apreciar más cosas simples como sentarse en un aula, interactuar con la gente y trabajar. horas en un laboratorio.
---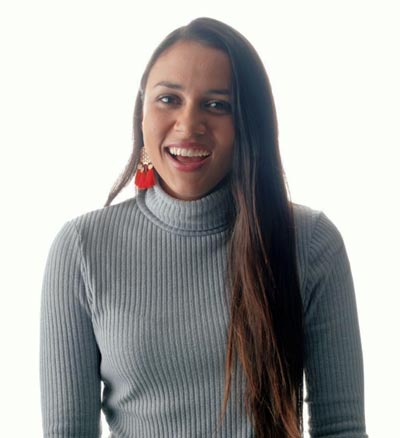 Valeria Saborio es de Costa Rica y está cursando su título de Ingeniería Industrial y de Sistemas en Truckee Meadows Community College en Reno, Nevada.