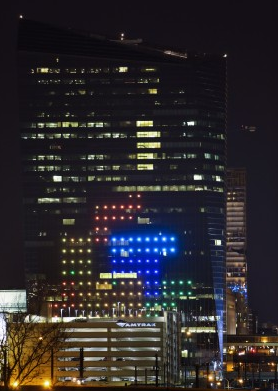 In our effort to bring good content to as many people as possible the text in this blog post has been machine translated so please excuse any mistakes. Thank you!
Photo: The video game Tetris being played on Cira Centre in Philadelphia
Our Happening of the Week pick:
The event took place on April 5, 2014, 30 years after Tetris was first coded.
Drexel University professor Frank Lee, right, and game designer Henk Rogers play Tetris on the 29 story Cira Center
As part of
Philly Tech Week
, Dr. Lee's latest creation—a two-sided game of Tetris on the 29-story
Cira Centre
— illuminated the Philadelphia skyline for one night. The scene of the giant Tetris game in the sky, Cira Centre, is located in the
University City
district of
Philadelphia
.