Student blogger Yu Tzu Chu - My Lovely Spring Break!
Image: Playing on the beach in Monterey, California
What did you do during the long Spring Break?
Did you do something interesting, exciting or relaxing?
I did!
I spent three days in Santa Cruz and Monterey and then five days in Los Angeles and San Diego in my vacation.
California is a state full of variety, from deserts to forests, big cities to small villages, mountains to beaches. We drove down to California instead of taking airplanes and the extensive America surprised me again and again. The scenery changed from place to place, from bare and wild areas to places covered by abundant trees and flowers. I took off my thick jacket and then sweater the closer we got to southern part of California. I have never experienced the long-drive trip like this before.
In my country, Taiwan, is a small lovely island, I can travel from the northern city to southern one within six to seven hours by car. My definition of distance is really different from American one. In addition, I used to make a full schedule and visit as many attractions as possible because I do not want to waste my time doing nothing. It sounds reasonable but the efficient, substantial and businesslike schedules usually exhaust me after going on a trip.
In this Spring Break, I experienced a super diverse and special vacation. First of all, it was my first time to travel with friends from different countries in the world, Americans, Koreans, Japanese, Chileans, Chinese, Ugandans, and me Taiwanese, such as a small United Nations. People with various background bring up different ideas, we communicated, shared our values and exchanged our experiences. Through the process, we tried to understand each other, not only the language but also the personal and cultural issues. This way of having a vacation completely reversed my mind.
Although we had planned to visit some famous tourist spots, as I usually do for my trip, we did nothing but only relaxing in the end at our beachside house during the first three days in Santa Cruz. Biking around the lovely attractive community, sunbathing, playing Frisbee, stepping in the water on the beach and having picnic with friends were very common, but we had fun and made those negligible activities become meaningful. Time seems less important than it usually is when we slowed down our steps in the pleasant moment.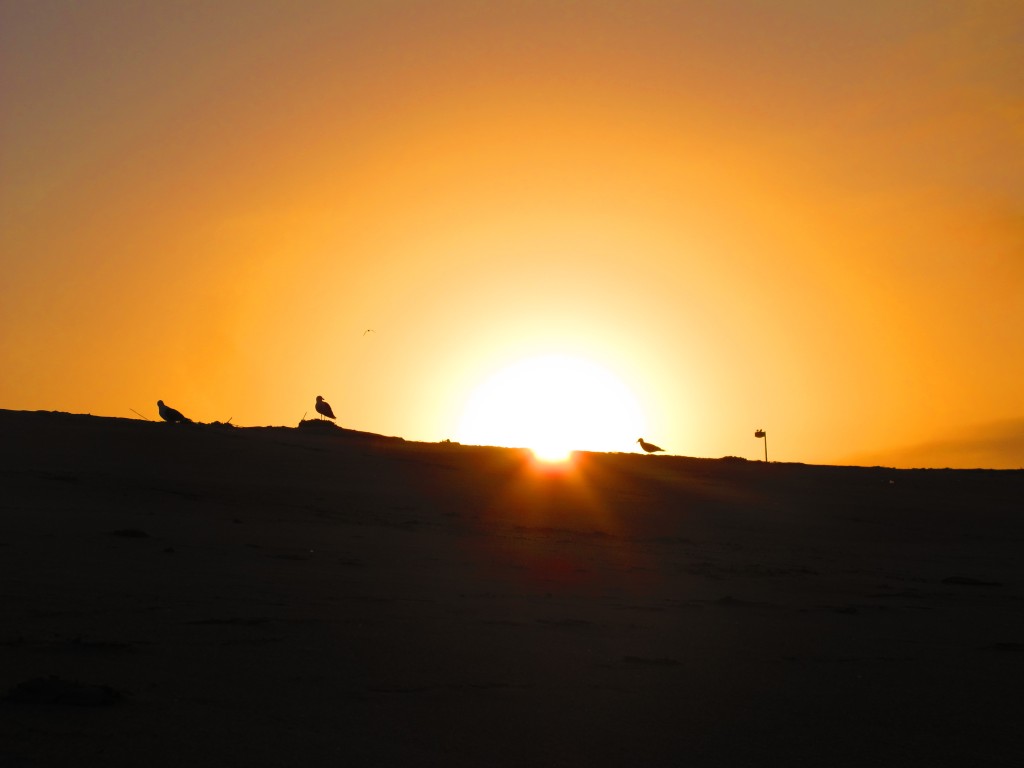 Photo: Amazing sunrise in San Diego, California
The cultural difference did affect me in the beginning of the trip. I got a little bit annoyed after taking too much time on traffic when we were down in San Diego. The reason I got impatient was because I was eager to stay in the theme park, like Universal Studios, Sea World, and San Diego Zoo for a whole day long and visit other local towns as well. However the spots we wanted to visit were too spread out to reach. It is impossible to go to everywhere even if we were not stuck in the traffic jam.
After realizing the fact, I tried to get rid of my depressed complaints and figure out ways to be positive towards the following days. I made my priorities of the attractions and tried to reach a consensus with other friends' choices. Although we just stayed in my favorite amusement park for half a day, I enjoyed a lot and created precious memories with my fellow travelers. On the other hand, I had other chances to experience different places recommended by friends that I have never noticed or was interested in before.
I got familiar with the city through visiting local markets, places and interacting with people living there and the more I learned about the city, the more it impressed me.
Yu Tzu Chu is an exchange student from Taiwan attending University of Nevada, Reno (UNR).
Get matched to the best program for you
Let us know what you're looking for so we can find the best school for you.
$5,000—$10,000 Semester
Certificate/Short Term
Bachelor Degree
2yr/Community College - 2+2 Programs
$10,000 — $15,000 Year
Undergraduate
2yr/Community College - 2+2 Programs
Certificate/Short Term
$10,000 — $15,000 Semester
Undergraduate
Bachelor Degree
Masters
Start your U.S. adventure with Study in the USA
What's your dream? We can guide, advise, and connect you with your perfect U.S. school. We can also help you with the application process.
Partner Services
Learn About U.S. education financing, housing, and more
Most U.S. apartments come unfurnished. Make your move easy with a student furniture rental package from CORT. Flexible lease terms. Delivered before you arrive. Starting at $99 per month.* *with a 12-month lease
Study in the USA's advisors can work with you to navigate the requirements to study abroad in the USA, UK, Canada, and Australia. We help you find the right school and apply.
Uniplaces is an accommodation provider with a large choice of verified rooms, entire flats and residences. The platform offers an easy, fast and safe way of booking a place to live. Check out the thousands of properties in the best cities and book a...
Resources
Learn about American culture and education direct from our experts at Study in the USA. Read more