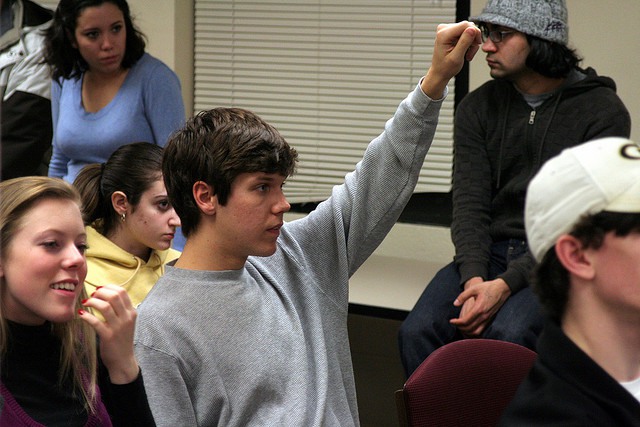 In our effort to bring good content to as many people as possible the text in this blog post has been machine translated so please excuse any mistakes. Thank you!
[caption id="attachment_350" align="aligncenter" width="640" caption="by Hector Alejandro"][/caption] Your first day of class, you will be presented with a syllabus. Flipping through the pages that outline the criteria and expectations of the professor, you will see a word that will become very familiar to you during your studies in the U.S.: participation. After years and years in school, when I hear the word "participation" there is almost a Pavlovian effect: my hand goes up, I ask questions, and listen a bit more intently. The act of participation is a foundational concept in the U.S. classroom and it is part of the style of teaching here in the states. American education goes beyond memorization. Obviously, you must know the material, but the application of concepts is much more important. There is a reason individuality is an integral part of American culture, and that is because it encourages ingenuity. Professors want you to not only hear what they're saying, but they want you to understand what they're teaching. A professor at Northwestern University in Illinois found a way to ensure that his students are always paying attention and participating. Jacques Steinberg reports for the New York Times, that every student in Prof. Bill White's class has been given a "clicker." Students are required to "click" into class and the device is also used for other purposes.
"They then use the numbered buttons on the devices to answer multiple-choice quizzes that count for nearly 20 percent of their grade, and that always begin precisely one minute into class. Later, with a click, they can signal to their teacher without raising a hand that they are confused by the day's lesson."
Your professor may be not as extreme as Prof. Bill White, but participation is not only encouraged, it is most often required. Usually, the professor will define what kinds of participation for which they will give credit. Here is my advice:
Raise your hand at an appropriate time, wait to be called on, and ask a question about the material.
Share your thoughts in class discussions.
Volunteer if the professor asks someone to read or share something.
I understand that participation can be scary and intimidating, especially if English is not your first language. I was very shy when I first started college classes and the thought of speaking in front of people really scared me, but you get used to it. More importantly, participating can earn you some major points with your professor and that's never bad.