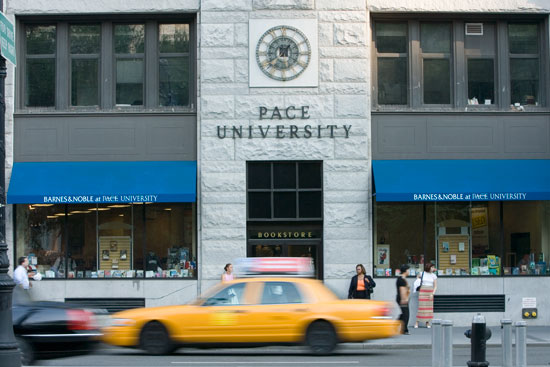 In our effort to bring good content to as many people as possible the text in this blog post has been machine translated so please excuse any mistakes. Thank you!
[caption id="attachment_2821" align="aligncenter" width="550"] Pace University in New York City[/caption]
Yang, Wu-Shun from Taiwan on studying English at Pace ELI in New York City
1. Please tell us your name, where you are from, and how long you studied at the English Language Institute.
Yang, Wu-Shun. I come from Taiwan, Taipei. I studied at ELI for 14 months.
I first time heard about ELI from a friend, who was studying at Pace University.
3. Which level of English did you start at and which level did you finish at? Is there a class you liked/helped you the most? Why?
I started at 
level 060
 and I finished at 
level 091
. For me I think the class of grammar and writing, and class of conversation and listening more are help for me, because before I talk grammar and write my grammar that was really bad, but the grammar and writing class improved me grammar a lot. And the conversation and listening improved my communicate skill also let me more natural communication. At less, people can understand what I say.
4. How has the ELI Program helped you reach your goal of entering a US Graduate School program?
The ELI teaching methods is step by step to improve your English skill, such as reading skill, writing skill and speaking skill. They divide the classes into four different levels. On each level you do would have the heavy assignments but those are really good to improve your English.
5. Please tell the audience what you like about the English Language Institute Program. Think about the teachers, the staff, your classmates, the activities, the extra services (language lab, writing center, etc.).
Some of teachers are strict and tough; some of them are not strict but friendly both are good teachers to help improve your English just because they have different teach skills. The staffs here in EIL are kindness and friendly, when you have any problem come to see them they probably will help you not only the school thing also many others. Each semester the ELI work hard to plan a variety of activities, and you can also learn in the activities of knowledge.
 6. Please share with us your favorite place near the Pace University campus. Why do you like to spend time here?
My favorite place near the Pace University is 
Birnbaum Library
, which is really useful place. Because there are many different function of room also you can borrow a laptop there. You can do your assignments, and discuss with your classmates in there. When I was an EIL student, I went to the library twice a week at less.
7. What makes NYC a great place to study and learn English?
In my opinion, to learning English is not only propose here also to learning many other things. New York has a lot of people come from the entire world. You would meet them, and communicate with them in English while you not only learning English also you would hear many different history or thing from different side of the world.
8. If there is anything else you would like to share about your experience in NYC or studying at the ELI that you think is important for students to know, please feel free to write it here.
If you choose to study here in New York. Don't stay home; come out to experience the city. There are no such as same city in the world. You would love here and get an experience you never get. According to famous rap singer 
Jay-Z
's song
Empire State of Mind
: "In New York, concrete jungle where dreams are made, oh there's nothing you can't do, now you're in New York. These street will make you feel brand new, the lights will inspire you, let's hear it for New York, New York". This shows how New York is a unique place. #StudyUSA