Let's Chat! Conversations with My New Colleagues at Truckee Meadows Community College (TMCC)
Hi all, my name is Alejandra Salas from Lima, Peru. I am currently an international student, pursuing my architecture degree at TMCC. My desire to study abroad started while I began my university studies in architecture in Lima. After participating in different work and travel exchange programs, I realized how important it is to reach out of your comfort zone, so I decided to continue my education in the United States. Even though moving out of my home country was challenging, I enjoy this new journey as an international student and now as an International Peer Mentor at TMCC. Being able to explore beyond borders, especially California's natural environment, inspires me to continue growing professionally and reaching my educational goals in sustainable design.


My life as a student at Truckee Meadows Community College while living in Lake Tahoe so far has been incredible. Getting to know people from all over the world with the same academic goals, having the chance to be the President of the Institute of American Architects of Northern Nevada (AIANN) student club, and being able to be active in the Reno community has been wonderful.


My main role as a new peer mentor is to provide guidance to international students and make them feel welcomed while studying abroad. I had the opportunity to interview my two co-workers from the International Student Services Team: International Student Advisor Virag Nikolics and International Peer Mentor Valeria Saborio. I hope that this interview will give you a better idea of what we do at TMCC International Student Services. It helped me better understand my co-workers and how their cultural background influenced their adjustment to life in the U.S.


Before jumping into the interview, let's start out with a quick intro of my colleagues Virag and Val…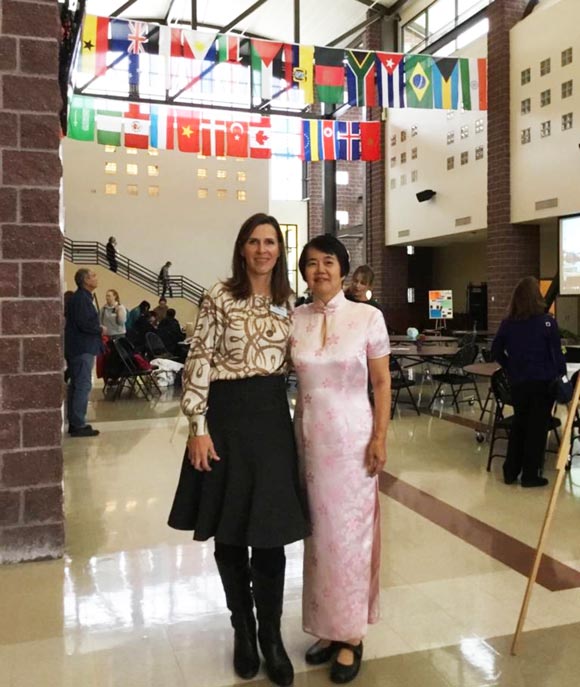 Virag (on the left above) was born and raised in Budapest, Hungary prior to moving to the U.S. where she earned her degrees in higher education — a bachelor's in English: Creative Writing and a master's in Education with a special interest in Intercultural/International Education. She has worked in the field of international education for nearly 20 years and has a passion for all things international. Virag speaks Hungarian, English, and Spanish, and besides enjoying a good time with her multicultural family, she enjoys getting to know her international students and continually widening her worldviews.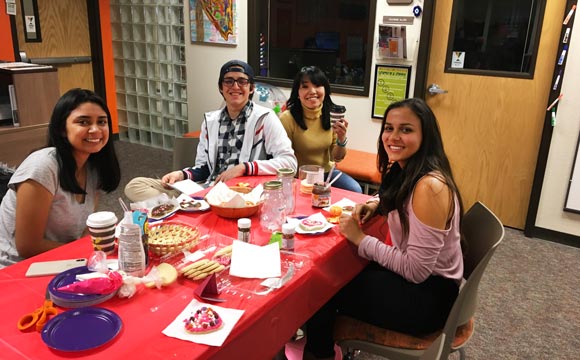 Val (on the far right above) is an engineering student from Costa Rica and is graduating with her Associate of Science in Engineering degree in December 2020. She will transfer to a 4-year university to pursue a mechanical engineering degree. Val has been an International Peer Mentor for almost two years, and she loves welcoming students from all over the world and making them feel at home. Val speaks English, Spanish, and Portuguese, and besides studying and working on campus, she enjoys spending time with her friends, and exploring the outdoors in the Reno-Tahoe Area.
Virag and Val experienced very different journeys that brought them to Reno, Nevada. Virag had lived in Davis, California, for many years. When her husband got a teaching position at the University of Nevada, Reno, the family decided to start a new adventure. "What I like the most here is the natural beauty of the area. My family enjoys hiking often, and we love the epic moments where the sky clears up and you can appreciate the mountain range covered with snow. Besides, the TMCC community — although having a relatively small population of international students — is very diverse, and we have created a closer tie with each one of our students, I appreciate that it can be more personal."
For Valeria, it was her childhood dream of attending an American university that landed her in Reno. After months of hard work, she won a full-ride scholarship to complete her first two years of her Engineering Associate's degree. "Once here, I felt so welcomed by everyone at TMCC, and each one of my engineering classes has been an amazing challenge. I love Reno, and the contrast between the city life and the beautiful nature around it, especially because we are just 30 minutes away from my favorite place in the world — Lake Tahoe."
Both Virag and Valeria agree that living in a new country has made them appreciate some of their home cultural values even more so. "What stood out the most for me was the positive environment. I partly grew up during communism in Hungary, and it was hard to travel to places. I know it might sound weird, but it is a common thing for us Hungarians, to complain a lot. Here in the U.S. it's not as common. So being influenced by the positivity here, made me grow," Virag says. For Valeria, coming from the "pura vida" style, where life is more laid-back, she appreciates the fast-paced and highly productive day-to-day life here in the U.S. However, both Valeria and Virag can agree that they miss the more family-oriented cultures in Costa Rica and Hungary. "Overall, more than positive thinking, the impact of being away from home made me appreciate my collective culture. Family values are very important; here in the U.S. it is a little more individualistic, which teaches you resilience and a good work ethic. However, we both appreciate the cultures that we grew up in and staying true to who we are," highlights Virag.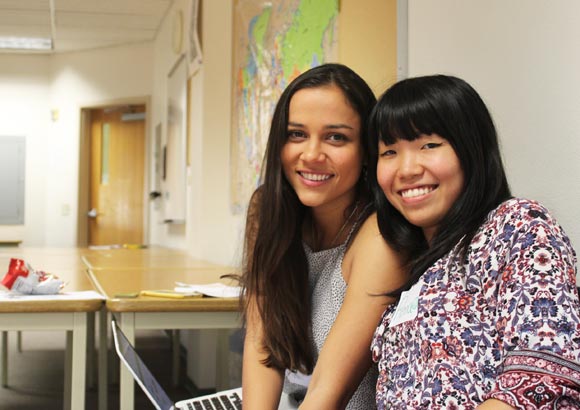 With every journey comes different challenges, and both Virag and Val have had different experiences in their U.S. work environment. Val's greatest challenge was balancing engineering schoolwork and her professional life working as an International Peer Mentor and as the TMCC Student Government Vice President. She learned to be extremely organized with her time in order to succeed academically. On the other hand, Virag has seen many changes throughout the years regarding U.S.mmigration affecting international students. "Although the process of coming here takes a lot of work and dedication, it is rewarding to see students graduate and pursue their dream careers."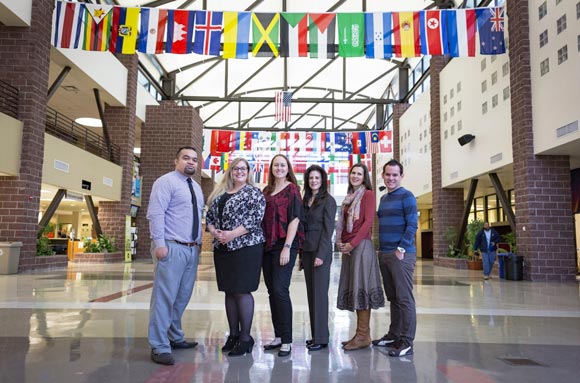 Being part of the International Student Services team is enjoyable when you get to interact with different cultures, especially when you are part of their journey. For Virag, her main focus as an International Student Advisor is to guide students throughout their college career, ensuring they follow all F-1 rules and stay in status while pursuing their professional, academic, and personal goals. "It is wonderful to see the students evolve professionally and come out of their shells," Virag says. Creating a connection with the students and the empathy factor is key. For Val, learning from the students — especially their culture — has given her a new perspective in life. She says, "Seeing students evolve and grow, even though they pass through difficulties, is rewarded once they accomplish their academic goals."
Although the educational system here in the U.S. is facing challenges due to the current global pandemic, we need to face this challenge with positivity, and working virtually definitely has its perks. Val has learned to appreciate the work's flexibility, and one tip she has to stay on track is to get ready in the mornings in order to stay motivated during the day. "I am grateful to meet friends virtually, and my professors have been so helpful virtually," Val states. However, for Virag, transferring to a virtual platform has helped the international team to gain more followers through social media and acquire a wider audience through Zoom events due to the better management of people's time.
Having the chance to interact and work with students from all over the world definitely creates an impact in different ways. Both Val and Virag agreed that this job opened their eyes to different perspectives and kept them from falling into stereotypes. Every international student has a different story that is a reminder to stay open-minded in order to appreciate their culture and lifestyle. Luckily for international students, TMCC has a bi-monthly event called "International Coffee Hour" that showcases many countries from a personal perspective. Guest speakers are usually students, staff, and faculty members sharing their personal travel experiences and/or their cultural traditions.
Virag and Val have now been working together for two years, creating a strong bond between them. What Virag has appreciated the most about working with Val was her understanding, and work ethics while "Val takes the job to heart and uses every suggestion as a learning tool, and her suggestions over time have helped to improve our program." For Val, working as a peer mentor while having Virag's guidance has made her grow professionally.
"I am so thankful to have had Val on our team, and I know you, Ale, as our new peer mentor will be an excellent addition with your creativity, enthusiasm, and communication skills. This is my favorite part about my job: working closely with amazing students like you, who have a strong work ethic and are dedicated to their goals and careers."
As Val's time as a peer mentor comes to an end, she shares her gratitude towards everyone on the team for being so supportive, and she is looking forward to her next adventure as an engineering student. She is now applying to engineering and research internships to acquire professional experience and plans to transfer to continue her bachelor's in mechanical engineering. "Even though my job as a peer mentor wasn't directly related to my field of study, as an engineer the most important skill I can have is being able to communicate effectively. Meeting students from all over the world and adapting to different communication styles was definitely my favorite experience, and I will take that skillset with me into the engineering field."
Having the chance to interview part of the International Student Services team as my first blog ever has made me feel comfortable as I am starting this new journey. During this interview I realized how important it is to both spread your wings when starting a new beginning while also embracing your roots. Something I highlight from this is that we evolve as we take new opportunities, and from the heart I would like to say: "Embrace every risk you take, that's the beauty in life to move forward." I really look forward to continuing sharing my experiences through this blog, and I hope you enjoy this first one.
---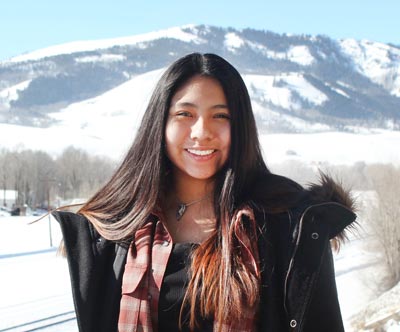 Alejandra Salas from Lima, Peru, is an architecture student and new International Peer Mentor at Truckee Meadows Community College.
Written by
Alejandra Salas
Get matched to the best program for you
Let us know what you're looking for so we can find the best school for you.
$10,000 — $15,000 Year
Undergraduate
2yr/Community College - 2+2 Programs
Certificate/Short Term
$5,000—$10,000 Semester
Certificate/Short Term
Bachelor Degree
2yr/Community College - 2+2 Programs
$50,000—$60,000 Year
Summer
Bachelor Degree
Undergraduate
Start your U.S. adventure with Study in the USA
What's your dream? We can guide, advise, and connect you with your perfect U.S. school. We can also help you with the application process.
Partner Services
Learn About U.S. education financing, housing, and more
Most U.S. apartments come unfurnished. Make your move easy with a student furniture rental package from CORT. Flexible lease terms. Delivered before you arrive. Starting at $99 per month.* *with a 12-month lease
Study in the USA's advisors can work with you to navigate the requirements to study abroad in the USA, UK, Canada, and Australia. We help you find the right school and apply.
Uniplaces is an accommodation provider with a large choice of verified rooms, entire flats and residences. The platform offers an easy, fast and safe way of booking a place to live. Check out the thousands of properties in the best cities and book a...
Resources
Learn about American culture and education direct from our experts at Study in the USA. Read more